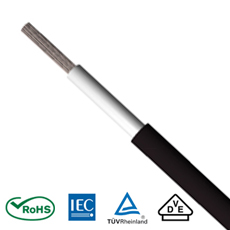 High quality cable solutions for solar energy applications
(PRWEB UK) 13 March 2013
As the Government looks towards clean and renewable energy to combat climate change, solar energy has become an increasingly viable source for both domestic and commercial markets. Last year, Greg Barker – Minister of State for Energy and Climate Change, announced in an interview with The Guardian that the Government plans to have four million homes powered by solar energy within the next eight years.
By pre-empting the increase in demand for solar systems in accordance with solar tariff amendments and the rapid rise in solar farms, Eland Cables has quickly established itself as a leading cable supplier to the solar market.
Products and Benefits
Eland's PV1-F Solar Cable is suitable for all domestic and commercial photovoltaic applications, and has gained the sought-after TÜV-approval after being subjected to rigorous testing. Eland's solar cable stockholding accommodates market demand, with cables providing highly reliable interconnection within a solar system at markedly competitive prices. Customers benefit from a choice of colours and sizes, as well as the optimal performance required for the smooth-running of solar applications. Complementary Solar Cable Accessories, including a Solar Crimping Tool and Solar Cable Connectors, are also available.
Additionally, Eland also supplies a vast range of quality-assured Power Cables – including Medium Voltage, HO7RN-F and Steel Wire Armoured cables, suitable for use in solar applications.
Technical
Eland's technical expertise and understanding of the Solar Market places them at the forefront of solar supply: a Technical and Quality Assurance Team is available to provide installers with support regarding system design and cable selection.
With extensive experience of the solar sector, quality-assured solar cables and technical expertise, Eland offers solar installers a highly competitive package.
Contact Eland Cables today for more information:
UK: 020 7241 8787
International: +44 20 7241 8787
Website: http://www.eland.co.uk