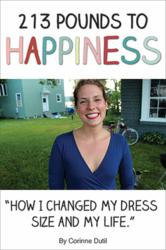 If I was able to lose the weight and transform my life you can too! - Corinne Dutil
(PRWEB) March 07, 2013
Corinne Dutil's debut memoir about the tribulations of weight loss and personal discovery is an inspiration. Chronicling her weight loss success journey with humor and tenderness, Dutil takes readers from her tear soaked revelation as she begins University to her personal health goals and beyond. Her insights contradict the idyllic settings her stories take place in, proving that personal success isn't about where you are or whom you're with (though the latter is important) but about learning to love yourself, your whole self, against the forces of doubt, denial, and self sabotage. Dutil suffers everything from heartbreaking betrayals to incessant teasing, but goes on to experience the reward of hard work and the elation of young love. She learns to define herself instead of letting others define her. You'll cheer her on and in doing so find the energy to meet your goals with the same gung-ho attitude and sense of humor.
Popular Canadian blogger Corinne Dutil's experience in personal transformation began with her weight loss blog, which garnered her a nomination for Best Weight Loss Blog from Fitness Magazine. Her die-hard fans logged on each week for tips and recipes and to find their own weight loss motivation in her inspirational story. Watching her following grow, Dutil set to write her book for the purpose of telling more than just how or what she did, but to inspire others just like herself reach their weight loss goals and win personal battles. Dutil's infectious zeal for life comes through with startling clarity as she recalls her real life transformation with hilarity and, in some instances, sadness.
Her writing voice is so intimate readers will feel as though they're in conversation with a longtime friend, not just a woman telling her story. This is clear from the onset, as Dutil charms even when relaying heartbreaking, awkward, and downright upsetting episodes of her journey. Dutil's quirk comes to life as she dashes her prose with the occasional French outburst, providing such context that even the Frenchless among us won't struggle to understand her exclamations. Embracing English as her adoptive language, Dutil manages to impart an adorable narrative voice both endearing in its simplicity and, at times, poignant in its understatements. She gets her point across in the most human of terms and succeeds in hitting her mark from the onset of her story to its heartwarming conclusion.
213 Pounds to Happiness: How I Changed My Life and My Dress Size is available for purchase at 213PoundstoHappiness.com and Amazon. For press inquiries, interviews and speaking engagements please contact corinne(at)213poundstohappiness(dot)com.