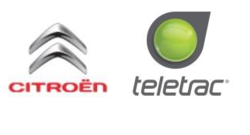 By introducing the Teletrac monitoring device, our insurance partner believes it will ensure drivers behave more responsibly, therefore allowing them to offer better insurance rates.
Garden Grove, California (PRWEB) March 01, 2013
Teletrac Inc.®, a 25-year veteran award-winning GPS fleet tracking and telematics software provider has partnered with Citroën to release a new insurance program designed to base rates on driver safety behavior.
Citroën has been offering the Teletrac system, fitted as standard in their vans, since 2006. Driving data acquired from educating fleet drivers to drive better have now led to Citroën choosing Teletrac Telematics for their consumer market. Creatively turning to technology to reduce the cost of younger buyers owning and insuring a brand new car, Citroën is the first manufacturer offering an insurance 'black box' solution as standard on a new car.
Starting this month, drivers will have the ability to receive 12 months of free insurance on Citroën's C1 Connexion model due to the fitting of a Teletrac black box device that monitors driver behavior.
Citroën's C1 Connexion special edition vehicle will be equipped with Teletrac's safety analytics system that will help the insurance company gauge driving behavior, allowing Citroën to offer free insurance to customers, starting from the age of 19.
In addition each customer will be given a range of consumer services via the Teletrac device, including SmartNav navigation, Trackstar stolen vehicle tracking, SafeSpeed camera alerts, and access to an emergency and breakdown facility directly from the vehicle.
Teletrac's safety analytics software enables users to easily pinpoint problem areas and take corrective actions to minimise safety risks, excess fuel waste and vehicle depreciation in their vehicle.
This concept has worked for many fleet companies in the past. Pat Gallagher, Director of In-Vehicle products at Teletrac noted, "Many companies look at fleet behavior and fleet analytics as a way to reduce their policy costs. If these companies show their relevant insurer they're taking steps to ensure that their drivers are driving within the speed limit and that they are adhering to all the necessary behaviors they should do, then invariably reducing the insurance company's risk will reduce the cost of the premium for the next year."
In that same vein, Citroën and Teletrac are confident that the concept will work for the general public and have introduced this on a model where it can entice a younger safer driving audience by providing free or affordable insurance—a feat in the current insurance market.
As Jeremy Smith, Head of Sales Programmes, Citroën noted, "By introducing the Teletrac monitoring device, our insurance partner believes it will ensure drivers behave more responsibly, therefore allowing them to offer better insurance rates."
This is by no means the first time that Teletrac has been involved in a groundbreaking insurance initiative. Norwich Union, one of the UK's largest general insurers previously launched a pilot to investigate motorist's preference for a usage-based motor insurance product. The ongoing "Pay As You Drive" and Fleet Telematics pilots launched in 2004 proved extremely successful, enabling Norwich Union to better understand vehicle usage and driving behavior – providing a uniquely accurate risk assessment tool.
Stuart Berman, Executive Director of Teletrac, commented: "Once again with our Citroën partnership, Teletrac leads the way in in-vehicle telematics hardware and innovative services. The introduction of usage based services further enhances the attractiveness of our vehicle platform."
The new insurance program is the newest addition to Teletrac's Fleet Director software platform, which utilizes tracking data to help reduce company costs and promote safety, compliance and productivity.
About Fleet Director® and Teletrac Inc.
Already proven and trusted by more than 20,000 fleets of all sizes and tracking more than 200,000 vehicles in 75 countries, Teletrac's Fleet Director software solution saves fleet owners time, money, and reduces their carbon footprint. Teletrac customers report up to 30% lower fuel usage, an average of 15% less driver overtime, 12% higher productivity and less unauthorized vehicle use.
Teletrac Inc. is headquartered in Garden Grove, CA. For additional information, visit http://www.teletrac.com, call 1-800-TELETRAC or contact us via email at info@teletrac.com
SOURCE: Teletrac Inc.