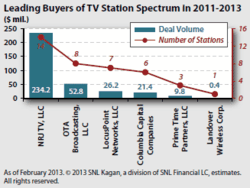 Monterey, CA (PRWEB) March 01, 2013
Announced today, SNL Kagan reports that a flurry of recent deals brings Spectrum-related TV station sales to nearly $345 million. Spectrum aggregators acquired 39 full-power and Class A stick TV stations in 2011-2013 YTD through January, with eight station deals already announced in 2013. Value bench-marks in these transactions have risen sharply in 2013, but still have plenty of head room before they hit wireless spectrum deal price points.
SNL Kagan has logged $344.8 million worth of TV station sales to groups thought to be acquiring the TV stations for purposes of tendering them in the FCC spectrum auction envisioned for 2014. These include 14 full-power stations and 25 Class A station sales. Over-all, the average value per TV home paid based on the publicly released deal prices has been $3.74 and the price paid per MHz/pop has been $0.25.
The most prolific buyers include NRJ TV LLC, which has logged the most deal volume at $234.2 million spent on full-power stations. OTA Broadcasting, a subsidiary of computer giant Michael Dell's MSD Capital firm, is runner up, with deal volume of $52.8 million and is the other primary full-power station buyer. Locus Point has acquired seven stations, all in November and December 2012, and all Class A properties.
Station spectrum buyers planning to tender at auction are no doubt counting on strong demand from wireless buyers and a valuation premium versus what they invested in the stations. While averages for wireless spectrum comps are still far above those paid for the TV station spectrum at benchmarks typically north of $1 per MHz per pop, it is still unclear how much the wireless players will bid at auction and how the mechanics of the auction and distribution of proceeds will work for TV station owners.
About SNL Kagan
SNL Kagan, a division of SNL Financial LC, is a comprehensive resource for financial intelligence in the media and communications sector, including the broadcasting, cable, entertainment, motion picture, telecom, wireless, satellite, publishing and new media industries. The SNL Kagan suite of products integrates breaking news, comprehensive data and expert analysis into an electronic database available online and updated around the clock. For more information, visit http://www.snlkagan.com.
Visit the SNL Press Room to learn more about resources available to members of the media.
###
SNL Financial
One SNL Plaza
Charlottesville, VA 22902
+1.434.977.1600
Other office locations:
North America. Europe. Asia
Visit SNL in the Media to learn more about resources available to members of the media.