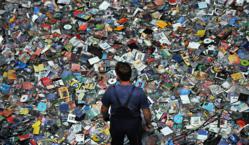 We are pleased that our efforts lead to a significant victory for our client, said Tim Santoni
Orange County, California (PRWEB) March 06, 2013
Santoni Investigations, an NTI Santoni, Inc. company, was involved in an anti-counterfeiting investigation / operation in conjunction with Microsoft and Federal Law Enforcement to solicit the sale of software from China into the United States. The successful operation yielded several targets, one of which was a significant player in the counterfeiting trade. The successful counterfeiting enforcement in this case involved a team of investigators, legal professionals and law enforcement.
The key player, who was later identified as Tony Nguyen d/b/a Sin Technologies, was one of the targets that Santoni investigators engaged with. Nguyen was involved in the importation and trafficking of counterfeit software that was coming from China.
According to sentencing records in the case of USA v. Nguyen (Case#: 2:12-cr-00783-DSF-1- United States District Court Central District of California) Tony Nguyen was sentenced to 5 years probation with a condition of 12 months home detention. It was also ordered that Nguyen pay $25,000.00 in restitution, $1,000.00 fine and a $100.00 special assessment. Nguyen was charged with, felony, trafficking in counterfeiting goods.
"We are pleased that our efforts lead to a significant victory for our client," said Tim Santoni, president. He went on to say, "The Microsoft investigators, Federal agents and US Attorney's office should be commended for their efforts in bringing this case to justice."
The operation involving Santoni Investigations, Microsoft and Federal Law Enforcement led to numerous undercover purchases from various targets in the United States and China. Santoni investigators shared useful information and evidence, which was shared with Federal Law Enforcement. The search warrants executed and intelligence sharing provided Microsoft with useful information that they can use to protect their software and combat counterfeiting around the globe.
"The counterfeiting trade is something that hurts businesses and the United States economy in more ways than most people know," said Tim Santoni.
Counterfeiting is a global trade that costs the United States government billions of dollars every year. According to statistics compiled by the IACC (International Anti-Counterfeiting Coalition), counterfeiting costs U.S. businesses $200 billion to $250 billion annually. Counterfeit merchandise is directly responsible for the loss of more than 750,000 American jobs. Since 1982, the global trade in illegitimate goods has increased from $5.5 billion to approximately $600 billion annually. Approximately 5%-7% of the world trade is in counterfeit goods. U.S. companies suffer $9 billion in trade losses due to international copyright piracy. Counterfeiting poses a threat to global health and safety.
About Santoni Investigations:
Santoni Investigations is headquartered in Orange County and has offices throughout California and the United States with partners worldwide. Founded in 1975, Santoni Investigations provides professional investigative services for the management of insurance fraud, including surveillance, location of persons, asset identification and process of service nationwide. The background research team offers employment screening, background checks, tenant screening and due diligence investigations. Santoni also provides trademark usage, acquisition, compliance and infringement investigations to brand owners and trademark professionals. The firms Intellectual Property division specializes in anonymous specimen acquisition for anti-counterfeiting efforts, including documented chain of custody control, and the anonymous negotiation and acquisition of Internet domain names.
They may be contacted at http://www.santoniworldwide.com or by phone, +1 949 900-3400 (toll free from within the United States: 1-800-498-1097).