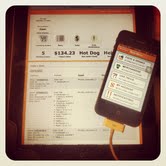 (PRWEB) March 06, 2013
Never miss a single moment of a baseball game, concert, or movie again. Newly released mobile app Seat Side Service allows fans at sports games, concerts, and theatres to skip the lines and have food and services delivered straight to them. Consumers can use their smart phones to view a venue's food, beverage, and merchandise offerings and purchase whatever item they wish. In addition, the app provides convenient notifications to keep customers up-to-date on upcoming events, along with relevant news and media.
Apart from sustenance and information, the app delivers interactive entertainment right to consumers' fingertips to engage them during lulls or commercial breaks at a venue. This entertainment arrives in the form of trivia; by participating in the trivia, users can earn points that are redeemable for promotions and prizes at the venue.
Seat Side Service was developed by University of Michigan graduate and entrepreneur Barak Leibovitz, who thought of the idea after waiting over half an hour to get drinks at a baseball game. Leibovitz, who has a diverse business background, thought of ways to optimize the ordering process to cut down on wait time after realizing that it would be much more convenient for concessions to be delivered directly. Although this kind of service is usually reserved for high end venues and preferred customers, Leibovitz wants to offer this luxury amenity to all.
Not only does this app change the way consumers experience entertainment events but the way stadium owners offer services and differentiate themselves from one another. Instead of having to battle crowds and miss out on moments from games, concerts, and movies, consumers can order on demand from the comfort of their own seats.
Seat Sid Service will be available on iTunes and Google Play for free.
About Seat Side Service
Seat Side Service is a versatile platform allowing users to have products delivered seat-side at a variety of entertainment venues, and allows for the integration of site-specific mobile entertainment.
As a mobile vending application, Seat-Side-Service is the most convenient and efficient way to have food, drinks, and merchandise delivered straight to your seat. Seat-Side-Service also allows users to play live trivia games, earn points, redeem prizes, and provides customers with venue specific notifications.