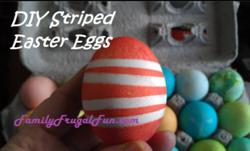 It just seemed like a great time to release my new video about Easter Egg decorating
(PRWEB) March 01, 2013
"I love all things Easter" says Maggie Miller, blogger-owner of http://familyfrugalfun.com/. "Its spring time, flowers are blooming & people are thinking of Easter dresses, bunnies, Easter eggs & fun family times." "It just seemed like a great time to release my new video about Easter egg decorating," says Miller, blogger and frugal expert.
MIllers video goes over five fun ways to dye and decorate Eggs using conventional as well as unconventional methods like with her Kool-Aid dyed Easter Eggs. Its great frugal fun for the entire family. With the promise of temping candy surprises for the kids who doesn't want to get into the spirited fun with Easter egg decorating too.
FamilyFrugalFun.com is a blog about frugal living tips, creative ideas for parents and having fun for families. It was established over two years ago and quickly became a hit as evidenced with the blogs high Facebook Fan count. Beth Rose and Maggie Miller are frugal living experts and co-authored Top 100 Mobile Text Coupons on Amazon's Kindle. Ms. Miller has been seen on Good Morning Delmarva, had frugal tips in All You Magazine and had their blog voted CBS Baltimore's Most Valuable Blogger People's Choice Award in 2011. She recently created the wildly popular 12 Month Frugal Living Calendar. You can also find Ms. Miller's creative ideas on Pinterest & YouTube.