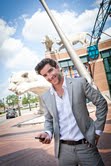 (PRWEB) March 06, 2013
Americans are getting tired of having to wait in long lines for food and drinks at concerts and sports games, lamenting the fact that customers end up missing portions of the game or show they paid big money to see. Research done by the start-up company Seat Side Service shows a growing discontent among consumers at the lack of changes to venue services despite the improvements in technology.
One Detroit resident said, "I'm tired of the outrageous lines when I go to baseball games. I once missed half an inning just trying to get food and drinks. There has to be a faster and easier way to do this."
Seat Side Service solves this problem by providing venues with a novel and interactive mobile application. The mobile app allows users to view a venue's menu, select items, and pay directly from the comfort of their seats. The items they purchase are then delivered to them without the hassles of waiting in line or missing the action. In addition to the mobile e-commerce portion of the app, Seat Side Service also provides information about the venue, including upcoming events and trivia games that reward users with redeemable points for prizes and special offers.
Entrepreneur Barak Leibovitz originally came up with the idea for Seat Side Service while attending a baseball game. Leibovitz couldn't find a vendor during the game and also didn't want to wait in a long line and potentially miss a home run. Leibovitz stated, "I knew if I had this problem others must be experiencing this same inconvenience and venues would be losing out on sales." Instead of simply accepting the inconvenience, the 22-year old University of Michigan graduate jumped on the opportunity to create the service himself.
Leibovitz added, "This mobile application will revolutionize the consumer experience at concert halls, sports venues, and movie theaters alike." Furthermore, "it benefits vendors because it directs them to where sales are and simultaneously benefits owners by providing added security through cashless transactions."
Seat Side Service is currently available for all entertainment venues and can be downloaded for free on iTunes and Google Play.