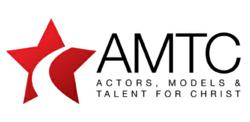 Each event is hosted by an industry professional scout who is both trained in spotting emerging talent and helping inspire a dedication to being a positive influence in the world of entertainment.
Atlanta, GA (PRWEB) March 01, 2013
For the past 31 years, nonprofit Christian ministry Actors, Models and Talent for Christ (AMTC) has been scouting the country, searching for actors, models, singers, dancers and comedians who are called to become positive role models.
Due to popular demand, the team will be screening local talent in the following cities: Raleigh NC, Portland OR, Houston TX, Winston-Salem NC, Atlanta GA, Seattle WA, Omaha NE, Dallas TX, Chicago IL, Roanoke VA, Kingsport TN, Jackson MS, Anaheim CA, New York NY, Louisville KY and Cincinnati OH. Auditions are free of charge.
Each audition is hosted by a scout who is trained in spotting emerging talent and is equipped to inspire performers to pursue a higher calling in the world of entertainment. AMTC's scouts are Industry Professionals who believe in mentoring upcoming artists.
After this initial scouting event, selected talent will be invited to participate in more intensive programs and training.
Founded in 1982, by supermodel Millie Lewis and her daughter Carey Lewis, Actors, Models and Talent for Christ is a nonprofit ministry, mission and movement that provides aspiring performers with professional direction, industry introductions and spiritual preparation so they can shine for Christ in the entertainment industry.
With hundreds of successful grads, like Mathai from The Voice, Two America's Next Top Models (Cari Dee and Whitney Thompson), Steven Boss a.k.a. tWitch from Step It Up Revolution, Ben Davies from Courageous and Aaron Conley as Young Simba in The Lion King on Broadway, AMTC has been the starting point for many successful artists. AMTC's services teach talented people what they need to know and connect them with the industry gatekeepers who can create larger opportunities..
To register for an upcoming audition, please visit http://www.amtcaudition.com/