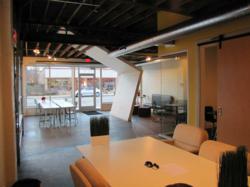 I really wanted to create an environment where I could be around young, creative, and entrepreneurial individuals.
(PRWEB) March 02, 2013
Royal Oak-based full service digital marketing agency Traffic Digital Agency plans to bring together local start-ups and entrepreneurs in a creative shared space called Venture Park. As a start-up itself, Traffic Digital Agency wants to immerse itself in an entrepreneurial environment that facilitates innovation and growth for all people and businesses involved. So far, four different companies share a newly-renovated building in downtown Royal Oak with plans for expanding into the larger space next door in the works.
Co-founder and CEO Jacob Zuppke says, "I really wanted to create an environment where I could be around young, creative, and entrepreneurial individuals. Venture Park allows different companies from various industries to coexist under one roof. Fortunately, through creating great relationships, partnering with the right people, and hiring a great team, we were able to make all of this happen very quickly. Inspiring new ideas, developing new technologies, and fostering innovation, we look forward to what Venture Park will hold in the future."
Traffic itself is expanding very quickly, having already worked with multiple local and national companies Reverie, Fairlane Ford, Paravis, 1-800-4-Blinds, MTS Driver Recruiters, and 1-800-LAW-FIRM, and recently landing regional pizza chain Cottage Inn. The Traffic team has been successfully implementing their expertise in all things digital, including SEO, web development, and social media. Also present in Venture Park is mobile app start-up Shibumi, video production company Coleman Media, and digital marketing start-up Tylar & Co.
Currently, Traffic and Venture Park host a networking event called Bootstrapped each month in their Royal Oak office to keep the local business community tight-knit and offer opportunities for different companies and entrepreneurs to share ideas.
As both Traffic and Venture Park continue to grow, the Metro Detroit area finds itself another business community to contribute to the local economy and fuel entrepreneurship.
About Traffic Digital Agency
Traffic Digital Agency is a full service digital marketing agency started in the summer of 2012 in Royal Oak. Started by a University of Michigan-Dearborn professor with over 15 years of experience in digital marketing and a recent UM-Dearborn graduate with two start-ups under his belt, Traffic boasts expertise in SEO, PPC, Social Media, and Web Development Services.
For more information, please contact Jacob Zuppke at (248) 591-4314 or at jzuppke(at)trafficdigitalagency(dot)com.