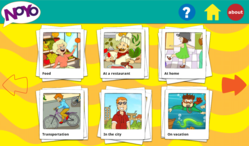 "The platform created by Noyo allows the user to go through real life scenes interacting with thousands of Spanish vocabulary words in context." Mike Sullivan CLO
Boston, MA (PRWEB) March 02, 2013
Noyo, a Boston based educational software company has created a new vocabulary learning platform that allows users to quickly learn Spanish vocabulary. Recently featured in the Squidoo lens, "iPad in the Spanish classroom - now what?" This app is quickly becoming a favorite of teachers who have iPad programs in their classroom.
"Noyo looked to improve upon the rote memorization of the flashcard model" says Mike Sullivan, Chief Learning Officer. "The platform created by Noyo allows the user to go through real life scenes interacting with thousands of Spanish vocabulary words in context."
Squidoo lens "iPad in the Spanish Classroom - now what?" discusses how Noyo apps work brilliantly with the Smart board when they are uploaded from the MacOS store for the MacBook Pro. "Download Noyo Spanish in the MacOS store and the app can be used interactively with that white smart boards projected from the Macbook Pro."
Thousands of words and phrases, each reinforced by supporting audio, visual representation, and written translation
Nearly 200 custom-illustrated scenes, packed with friendly characters and amusing scenarios
Audio by a professional voice artist who is a native speaker
Built-in assessment questions at the end of each unit
Built-in assessment; check your stats--including how words learned, the time spent learning, and assessment scores--and the ability email them to the user or a teacher
10 targeted units, featuring vocabulary related to: food, ordering at a restaurant, transportation, cities, vacation activities, home and family, sports, animals, school, seasons
Noyo Spanish is now available for download on iTunes and the Amazon App store for an introductory price of $3.99. There is always a 50% volume discount for educators in the iTunes store.
Noyo is a Boston-based educational software company dedicated to providing engaging and cost effective language learning tablet apps. Noyo now offers language learning apps for Spanish, French, ESL, Hebrew,Portuguese, and Mandarin Chinese. All apps are created by a passionate team of educators, technologists, linguists, and designers. More information can be found at http://www.noyo.com.