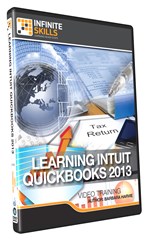 Learn Quickbooks 2013 At Your Own Pace With Infinite Skills
(PRWEB) March 14, 2013
Software training firm InfiniteSkills Inc. this week introduced "Learning Intuit QuickBooks 2013," a course designed to teach basic accounting skills and techniques using the popular computer-based accounting program.
Since its release in 1992, QuickBooks has been the dominant accounting program for small-businesses, at one time claiming around 85 percent of the market. Intuit has continued to add features to QuickBooks such as an audit trail and heightened security, which have ensured the program remains the most user-friendly and feature-rich accounting program in the small business market.
Learning Intuit QuickBooks 2013 Video Training - DVD offers an expert guide, clear and detailed instruction, for learning the essential functions, tools, and techniques, for accounting with QuickBooks. With this easy-to-follow training video, small-business owners, bookkeeping professionals, and professional accountants can master this helpful, time-saving program in a matter of hours.
Learning Intuit QuickBooks 2013 Video Training - DVD
Course author Brenda Harvie has been working with QuickBooks since its introduction, having worked on the very first DOS release in 1992 along with several subsequent editions. As a writing professional, Harvie has worked for a number of Silicon Valley companies, including Intuit, and written and developed training materials for accountants and others training in QuickBooks. She also puts her talent in QuickBooks to use as an entrepreneur.
In the Learning Intuit QuickBooks 2013 Tutorial, Harvie creates a clear, flowing video manual for new and experienced QuickBooks users. Her friendly and intuitive approach simplifies learning even the most complex QuickBooks concepts.
Harvie begins by walking students through setting up QuickBooks and their company file, and explaining how to navigate the QuickBooks layout, including a chapter explaining how to customize preferences for the company file, so users can suit the program to their specific needs.
Then, starting with the important concept of lists, Harvie delves into the nuts and bolts of managing money in QuickBooks. She explains how to create lists of customers and vendors, products and types of accounts, before providing detailed explorations of transaction types, incoming and outgoing money, and inventory tracking.
Other key topics include how to use QuickBooks when working with an exterior accountant, and interacting with bank registers to deposit money and make other bank transactions.
"With this video," Harvie says, "you'll get the benefit of my decades of experience with QuickBooks as you learn the best-practices, as well as convenient tips and tricks for accounting with QuickBooks."
Free demo videos and a full list of course contents can be found on the Learning Intuit QuickBooks 2013 Video - DVD training page of the InfiniteSkills website:
http://www.infiniteskills.com/training/learning-intuit-quickbooks-2013.html
InfiniteSkills offers its Learning Intuit QuickBooks 2013 Tutorial either as a DVD or a direct download from the company website at a retail price of $99.95. All titles and formats are compatible with Mac and Windows operating systems. Shipping is available around the globe. Additionally, InfiniteSkills tutorials are supported by project files which correspond to examples in the videos, allowing users to work alongside experienced instructors right on their computer or iPad.
About InfiniteSkills Inc.
A leader in the field of software training, InfiniteSkills strives to offer the highest quality training available at an affordable cost. InfiniteSkills tutorials are task-oriented instructional videos, teaching complex skills by providing hands-on examples and guiding users as they carry out critical objectives. InfiniteSkills offers a comprehensive range of software titles available as DVDs, digital downloads, and in iPad editions, keeping with company aim of delivering professional training to customers anywhere they want to learn.