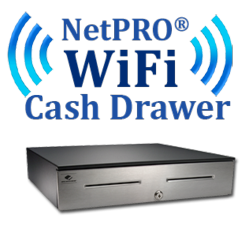 Retailers are looking for the latest technologies that can improve the overall customer experience – mPOS or mobile POS is such a technology
Minneapolis, MN (PRWEB) March 01, 2013
APG Cash Drawer, LLC has been named as a finalist for a 2013 Innovator Award in the category of Best Cash Innovation. One of only five finalists in the category, APG Cash Drawer's NetPRO® Wi-Fi cash drawer is being recognized as an innovative solution in the payments industry. Voting is open now through March 7th on PYMNTS.com with the winners being announced during a live ceremony at Harvard University on March 21. The Innovation Project is a two-day program that will challenge the way the payments and broader commerce ecosystem thinks, develops, and ignites innovation. To see the list of other finalists and to vote, go here.
"We are honored to be recognized as a finalist in the Best Cash Innovation Category," stated Mark Olson, President of APG Cash Drawer. "Retailers are looking for the latest technologies that can improve the overall customer experience – mPOS or mobile POS is such a technology. Our Wireless NetPRO® cash drawer is the 1st of its kind and it's able to communicate with any of today's tablet based POS systems. Going mobile doesn't eliminate the cash transaction, it introduces security concerns. NetPRO® cash drawers have the ability to help retailers solve these issues through proximity claiming and alert features, which can activate security cameras, time and date stamp security video recordings, and broadcast alert messages to a store manager's mobile devices."
The Innovation Project 2013 delegates include senior executives and elite innovators from every aspect of the payments and broader commerce ecosystem, worldwide-- along with the CEOs of the most innovative startups in the space. The Innovation Project is hosted by PYMNTS.com, a leading source of news and content on "what's next" in payments innovation. On March 20th and 21st the greatest minds in commerce and payments will come together to discuss and challenge the conventional wisdom around what it will take to get merchants and consumers to adopt new ways to shop and pay. The Innovator Awards, given to 15 of the industry's top innovators, will be emceed by B.J. Novak of The Office who will introduce delegates to 40 of the hottest "next generation" payments innovators.
For more information about APG and their NetPRO® WiFi cash drawer, visit http://www.cashdrawer.com/NetPRO. To see the list of other finalists and to vote, click here.
About APG Cash Drawer, LLC
APG manufactures a broad range of high-quality cash drawers and other related products for thousands of customers throughout the world. During its 34+ year history, APG has built a reputation as the supplier of choice for highly durable and dependable cash drawers. To learn more about APG products, visit http://www.cashdrawer.com or call 763-571-5000.
About PYMNTS.com
PYMNTS.com is reinventing the way in which companies in payments share relevant information about the initiatives that shape the future of commerce and make news. This powerful B2B platform is the #1 site for the payments industry by traffic and the premier source of information about "what's next" in payments. C-suite and VP level executives read it daily for these insights, making the PYMNTS.com audience the most valuable in the industry. It provides an interactive platform for companies to demonstrate thought leadership, popularize products and, most importantly, capture the mindshare of global decision-makers. It's where the best minds and best content meet on the web.
###