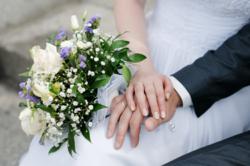 Newport Beach, CA (PRWEB) March 01, 2013
In light of reports about Christina Applegate's secret wedding and particularly her large, shiny diamond wedding ring, Wedding.com reminds couples to remain within their budget when it comes to choosing wedding bands.
It has been revealed that famous jewelry designer Neil Lane designed Applegate's platinum ring, complete with diamonds everywhere, for her private wedding ceremony to Martyn LeNoble (http://www.eonline.com/news/392753/christina-applegate-s-wedding-ring-neil-lane-dishes-on-the-star-s-new-bling). In light of the details of the undoubtedly expensive ring, it is easy to want what celebrities have. Wedding.com, however, suggests brides remain realistic and stick to their wedding budget.
"Of course it would be nice if everyone could afford a platinum and diamond wedding ring designed by Neil Lane like Ms. Applegate, but with wedding costs still averaging over $26,000 each, couples should try to remain within a set budget," says Brett Reynolds, CEO of Wedding.com. "It is a better idea to start off a marriage without having broken the bank on expensive wedding rings. After all, a wedding ring is meant to be a symbol of an eternity of love together, not a reminder that you spent more than you could afford."
For more information about Wedding.com, please visit http://www.wedding.com.
About Wedding.com
Wedding.com is an innovative new website that connects engaged couples planning their wedding with wedding vendors looking to grow their business. Wedding.com contacts vendors for couples, giving them the power to compare and negotiate while ultimately saving time and money. With 12,000 couples and 22,000 vendors currently using the website, 105,000 proposals have already been sent since their inception. Vendors range in services from wedding planners, photographers, florists, and DJs to custom invitations, party favors, and much more. For additional information about the company and its services, please visit http://www.wedding.com.