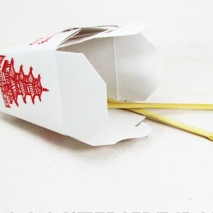 London, England (PRWEB) March 01, 2013
CyberCandy recently expanded its product offerings to appeal to a U.S. marketplace by starting a U.S. version of its popular Chinese takeout candy box. The product, called Takeout Candy, features a pair of chopsticks.
"We've always had a passion for candy, but we also love food you eat with chopsticks, so this was a match made in heaven," says Margaret Morrison, co-founder of Cybercandy. As the company points out on its website, customers can enjoy eating from a Chinese takeout container, just as they see their favorite sitcom stars do on TV every night.
Morrison tells us that Chinese takeout containers are a part of American culture, not used in other parts of the world. CyberCandy first launched the product in England, where it proved wildly successful, prompting the company to try it out in the States.
CyberCandy is a "Pick 'N' Mix" box, meaning customers can choose from a large variety of candies, including conversation hearts, gummy bears, hot tamales, and much more. Each box contains 350 grams (3/4 lb.) of candy in an authentic white takeout box container with red text and design.
Founded in 1999, CyberCandy began as a home-based business that has always embraced traditional principles of hard work without compromise. Just three years later, CyberCandy began its expansion, eventually growing to six stores and two large distribution warehouses.
CyberCandy's large selection of candy includes a variety of American, British, Australian, Finnish, Canadian, Japanese, and Swedish candy. The company's products range from standard candy bars to unique novelty products, including bacon-flavored candy and Magic Choc, moldable chocolate.
For soda lovers, CyberCandy has hundreds of unique flavors, both nostalgic and novelty. Flavors include classics, such as Cheerwine and RC, alongside exciting flavors, like cinnamon, cherry and mint, amoretto, and red raspberry. The company also sells candy-flavored cosmetics, with lip balms in delicious flavors from Betty Crocker, and novelty items like bacon-flavored toothpicks.
CyberCandy is ideal for gift-giving, from the novelty Chinese takeout box to themed gift packs such as Angry Birds gift packs and Star Wars mints. Novelty gift sets like the "Proud to be Geek Gift Box" and the Australian and Canadian gift boxes allow customers to choose the perfect gift. CyberCandy's series of mystery parcels features items hand-picked by staff members.
Setting itself apart from others in the business, CyberCandy employs a staff of dedicated workers who have an enthusiasm for the candy business. Whether customers shop online or in one of CyberCandy's stores, the company's staff strives to give the same personalized experience. As a result, CyberCandy is always interested in adding dedicated staff to its team.
CyberCandy doesn't just offer items to satisfy a person's sweet tooth. A full line of CyberCandy baseball T-shirts are available. For a limited time, CyberCandy is giving away T-shirts to selected bloggers who promote the site. For more information on CyberCandy's T-shirts or to browse the company's selection of sweets, visit http://www.cybercandy.co.uk/.