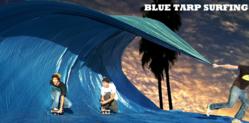 Los Angeles, Cali. (PRWEB) March 02, 2013
Canopies and Tarps, a leading purveyor of tarps, tarp accessories and canopies, has unveiled a new feature in its online shopping platform. The shopping experience redesign grants customers access to all of the available sizes of a specific tarp, directly from a single product page. This checkout-improving change is likely to make browsing and ordering much easier for visitors of the site. The change will also make viewing on-hand inventory for a given tarp simpler. Because of the vast selection of tarp options that CanopiesandTarps.com carries, the redesign has the potential be an invaluable time-saver for customers. See the new shopping experience on silver tarps page.
In response to a growing trend, Canopies and Tarps is expanding its selection to include tarps that are ideal for land-based surfing. This new fad, known as tarp surfing, requires one to ride over a water-colored tarp on a surfboard-like skateboard, while being engulfed in the tarp as it's pulled over you to mimic a crashing wave. It may be inherently difficult to describe the sport, but it's easy to learn about it thanks to a growing YouTube presence. The tarp surfing collection at Canopies and Tarps includes a number of different-sized options that come in only one color: ocean blue.
"These changes have come as a response to customer needs," said Matt Roberts . "We knew that the site wasn't designed as efficiently as it could be, so that's something that we wanted to address. We identified a more comprehensive product page that lists all the tarp sizes as a viable solution. Accordingly, we implemented that change and have seen nothing but positive results thus far. Tarp surfing is something that our younger customers are very interested in. We cater to a wide range of customers, so we had no problem designing a section just for tarp surfers — we like to see people thinking outside of the box, too."