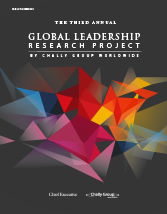 The challenges of corporate leadership today demand dramatically greater capabilities than the traditional disciplines of the past.
Dayton, OH (PRWEB) March 01, 2013
Chally Group Worldwide™ has released the summary results and key findings from the Third Annual Global Leadership Research Project. Over the three years of this continuing research study, Chally has surveyed more than 2500 C-level and senior human resources and development leaders from global organizations. The survey data was collected with Chief Executive magazine for publication of the 2013 Best Companies for Leaders in January of this year.
The study is designed to engage CEOs and human resources leaders directly, to examine evolving practices in leadership development and to recognize the innovative approaches and persistent challenges faced by companies committed to investing in their own talent for strong business performance.
"The challenges of corporate leadership today demand dramatically greater capabilities than the traditional disciplines of the past, and the CEO bears the ultimate responsibility for the organization's long-term success," stated Howard Stevens, Chairman of Chally. "The best of the best accept that no one can predict tomorrow's paradigm-altering technology, competition, or global environment. But they can prepare their successors with the necessary competencies, experiences, and resources to drive continued growth and profitability."
Key Findings from the 2013 Global Leadership Research Project include:

Operations, Sales, and Finance employees are moving up. The employees most likely to assume C-level positions tend to come from Operations, followed by Sales and Finance, as measured by how much time CEOs spend fostering executive development across different functional areas.
Skillsets for leaders vary by company size. Adaptability to Change tops the list of critical skills required for upper-level managers in companies with more than $500 million in revenue. In smaller companies, Good Communication was identified as the most important skill.
Search for top talent is also an important skill. The report also finds significant variation in the ways larger and smaller companies identify talent. While smaller firms rely heavily on interviews, larger companies depend more on specialized recruiting firms – and despite the hype, only about half of all companies use social media.
Leadership development drives business performance. Study data show that firms ranked highest among the Best Companies for Leaders generate greater market value over time, suggesting that an organizational commitment to leadership development correlates directly with business performance.
Concluding the report is an exclusive interview with veteran CEO and Harvard Business School professor Bill George, in which he argues that regardless of other titles, "Chief Sales Officer" is the corporate leader's most important role. Only by staying close to the customer, personally and persistently, keeping "the focus on the marketplace and not the stock market," can a leader run a truly customer-centric organization.
To view the full research report findings, visit Chally's Global Leadership site to download a copy.
The Global Leadership Research Study is an ongoing project that builds year-on-year insights gained, expanding data collection to gather critical information on issues previously identified as important. Chally invites participation from leaders and HR executives mostly involved in leadership development and succession planning.
More information about the companies included in the 2013 top 40 public rankings and top 10 private rankings can be found in the January/February edition of Chief Executive magazine.
About Chally Group Worldwide
A global sales and leadership potential, performance and talent measurement firm, Chally Group Worldwide provides its industry-leading research, predictive analytics and advisory services to clients across 60 countries. Chally assures that our customers have the information they need to grow sales and minimize risks associated with talent management decisions relating to selection, alignment, development and succession planning.
About Chief Executive
Chief Executive Group was founded in 1977 to create and foster opportunities for CEOs to share their experiences and expertise within a community of peers. It serves its CEO audience in a variety of media including print, in-person, and online, which in turn provides advertisers and sponsors multiple opportunities to develop long-term relationships at the Chief Executive level. In addition to publishing Chief Executive magazine and http://www.chiefexecutive.net, the Chief Executive Group brings CEOs together through its annual CEO2CEO Conference, open to C-suite executives, and its by-invitation-only CEO Roundtables, Symposiums, and Global Events.
##