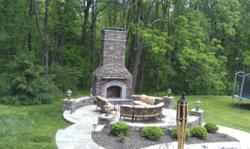 Gaithersburg, MD (PRWEB) March 01, 2013
Shanco Companies, a Maryland home improvement contractor located in Gaithersburg, won a Contractor of the Year (CotY) award from the National Association of the Remodeling Industry, Metro DC Chapter (NARI Metro DC). The category was Residential Exterior Under $100,000.
The award-winning project was a large outdoor remodel in Fulton, Maryland—Shanco designed and built an outdoor kitchen pavilion with a bar and TV, a large stone fireplace, and a patio.
"We updated the entire outdoor space while staying true to the older surroundings that the customer wished to remain the same…attention to detail, communication with the customer, and time management played important roles in completing a project of this magnitude," said Kimberly Hilderbrand, Chief Operations Officer.
CotY awards are given to NARI members who have demonstrated "outstanding work through their remodeling projects." NARI Metro DC members represent an elite group of more than 300 companies and individuals in the industry.
About Shanco
With over 20 years in the home improvement and remodeling business, Shanco serves homeowners throughout Maryland, Washington, DC, and Northern Virginia. They provide a variety of services, from roofing to kitchen remodeling. To learn more, call them at 240-252-7817 or visit their website, http://www.goshanco.com.
7609 Airpark Road, Gaithersburg, MD
240.252.7817