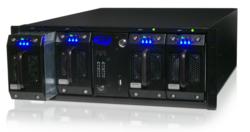 The RAID controller travels with the drives and can be accessed using a USB port in an emergency
Reno, Nevada (PRWEB) March 05, 2013
Highly Reliable Systems, based in Reno, Nevada, has released a Windows Storage Server 2012 version of their RAIDFrame platform to address the need for a self backing NAS. The RAIDFrame BNAS was designed to perform 3 functions simultaneously: 1) a NAS for day to day near line storage, 2) as a backup appliance, and 3) as a BDR (Backup and Disaster Recovery) server.
BDRs host virtual servers in the event of hardware problems. Rather than specify a virtualization or backup software, the company lets the client specify them. Removable RAIDPac bays 3 and 4 can mirror one another, allowing duplicate copies of data to be transported. Removable drives can be used to seed, replace, or supplement cloud backup strategies.
Darren McBride, CEO for Highly Reliable Systems says that RAIDPacs include 3 SATA drives and an integrated RAID 0/5 controller. "The RAID controller travels with the drives and can be accessed using a USB port in an emergency" said McBride. Each RAIDpac can store up to 12TB allowing up to 48TB to be installed in the RAIDFrame. A key feature of the product is the ability to transparently mirror between bays 3 and 4. Duplicated RAIDPacs can be pulled while keeping a primary pack online, which means that backup software doesn't see a volume go offline during drive swaps.
The appliance has a Xeon processor, 32GB of RAM, and attaches via Gigabit Ethernet (10 Gig-Ethernet optional). The Windows boot drive is a front panel accessible 120GB industrial grade SSD for performance and reliability. RAID management software is provided that will email the user upon failure.
A Linux version of the product is available, and both versions will join Windows Domains. For more information visit http://www.High-Rely.com or call 775-322-5397