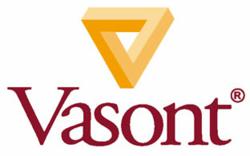 Emigsville, PA (PRWEB) March 04, 2013
Writers can use the newest release of oXygen software as their XML editor while managing content in the Vasont® Content Management System. Vasont Systems, a top provider of component content management system (CCMS) software, certified that their Vasont Universal Integrator (VUI) extension supports oXygen 14.2, which was released in February, 2013. Using the VUI, Vasont CCMS users are able to write and edit XML content in oXygen while accessing the Vasont CCMS through a toolbar menu option.
The oXygen XML Editor enhances the productivity of developers and content authors through an intuitive and innovative interface. Writers can author XML content in oXygen that can then be stored and managed in the Vasont CCMS through its VUI extension. Organizations that use the Vasont CCMS integrated with XML editors like oXygen have saved 52% in editorial and content development costs while reducing their editorial cycles by 59%.
"The VUI extension for oXygen provides a quick and easy way for writers to access their content and workflow processes in the Vasont CCMS directly from the oXygen interface," said Suzanne Mescan, Vice President of Marketing for Vasont Systems. "Writers get the benefit of using an easy XML editing interface while managing their content reuse and business processes in the Vasont CCMS behind the scenes."
For more information about oXygen 14.2, visit the oXygen website.
About Vasont Systems
Headquartered in Pennsylvania, Vasont Systems provides component content management software and XML data services to Fortune 1,000 companies and global organizations from a variety of industries, including manufacturing, technology, publishing, financial, and healthcare. Since 1992, Vasont Systems has helped companies organize their critical business assets, manage productivity, and disseminate information in many languages to multiple media channels while reducing their costs by an average of 63% and shortening overall cycle times by 75% on average. Vasont Systems has been named multiple times to the EContent 100 list of "best and brightest digital content companies." For more information, visit http://www.vasont.com.