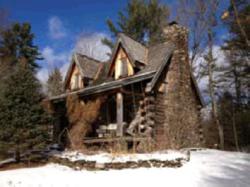 "We love our log home. We feel more in tune with our natural environment here."
Delhi, New York (PRWEB) March 05, 2013
When Joanne and Brian McHugh were looking for a vacation home in the Catskill Mountains of Upstate New York, their choice of a log home was a "natural" one. "We love the scenic beauty of the mountains," said Ms. McHugh, "and choosing a log home allowed us to bring the outdoors into our home."
The desires of this Long Island couple comes as no surprise to Catskills real estate broker Eric Wedemeyer. "Log homes remain a popular choice for home buyers," said Wedemeyer whose Coldwell Banker Timberland Properties agency has four offices in the region. "The beauty of the natural wood interior coupled with our spectacular settings is a great combination." Wedemeyer added that log homes also appeal the buyers due to their environmental sensitivity. "It's about being green and comfortable."
"We love our log home," said McHugh. "And, recommend it all the time to our friends. We feel more in tune with our natural environment here."
Click here to view catskills real estate log home listing.
Coldwell Banker Timberland Properties, with offices in Margaretville, Delhi and Stamford, is the premier real estate agency of the Catskill Mountains in New York State. Buying and selling land and homes in the New York City watershed area is unique and the 25-plus agents of Coldwell Banker Timberland Properties are trained to help buyers and sellers through this process. For more information about Coldwell Banker Timberland Properties and to preview Upstate New York homes and land offerings, go to http://www.timberlandproperties.com.