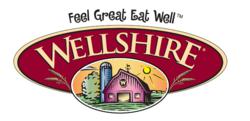 (PRWEB) March 02, 2013
Wellshire is excited to announce the re-launch of its Gluten-Free Chicken Bites in a re-sealable bag that displays the black-and-white Gluten-Free (GF) logo, which signifies The Gluten-Free Certification Organization (GFCO) approval. The Wellshire brand Chicken Bites are available for purchase exclusively at Whole Foods Markets across the United States.
Wellshire chooses to work with the leading gluten-free certification program to carry the GF mark, representing unmatched reliability, in an effort to simplify choices for families with gluten allergies and sensitivities. Wellshire's commitment to offering products that are safe for the nutritional needs of those managing celiac diets is underscored by the company's compliance with strict testing standards.
Audits are completed by GFCO representatives to approve allergen processes and procedures. Throughout processing and packaging, Wellshire's Chicken Bites are tested several times for the presence of gluten and consistently maintain results below the GFCO standard of less than 10 Parts Per Million (PPM). The product is initially tested as raw material before the Chicken Bites are produced. Two additional tests are done, after bulk production and prior to retail packaging. As an added assurance, retail packages from each production run are then tested to validate the results meet the requirements for GFCO approval.
"Quality and customer service are always at the forefront," said Wellshire President Louis B. Colameco III.
"We are proud to offer consumers safe and healthy options that fit their lifestyles, and we are thankful everyday for their continued loyalty."
"Wellshire recognizes people with food allergies are inherently highly-educated consumers - because they need to be," Colameco added. "We are happy that Wellshire's Allergen Database and transparency in product labeling makes it easier for them to determine the right choices for themselves and their families."
Wellshire's Gluten-Free Dinosaur-Shaped Chicken Bites are fully cooked and made with a yellow corn flour batter. In addition to being safe for people with gluten allergies to consume, the chicken bites are also free of casein, dairy, lactose and nuts.
It is Wellshire's philosophy that "less is more" and thoughtfully crafts its more than 350 products with an uncompromised passion to offer customers the highest quality all natural meats. Wellshire's minimally processed products are 100% free of any artificial ingredients and antibiotics, and always made without the use of nitrates and nitrites or any other preservatives.
Please contact a live customer service representative for additional information at 877-467-2331 or info(at)wellshirefarms(dot)com. Wellshire invites the community to connect online on Twitter @Wellshire and on Facebook under Wellshire Family of Products. Learn more about the company at its recently redesigned web site at http://www.wellshirefarms.com