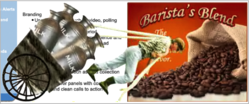 Dallas, TX (PRWEB) March 01, 2013
PointRoll recently highlighted Dallas-based Launch advertising agency's work for effectively using rich media to increase awareness and sales of consumer goods company Promised Land Dairy. Despite declining category sales, Launch was able to effectively position the Floresville, TX company based on their wide variety of unique, all-natural milk flavors. The colorful and engaging rich media ads garnered phenomenal results that were further outlined in a case study by PointRoll.
The rich media campaign was a result of an interdisciplinary team at Launch Agency. Members of this team were: Jon Fullrich, animator; Richard Wezensky, art director; Ryan Ingram, copywriter; Ashley Mejia, account executive and Alexandra Watson, digital media coordinator.
About Launch Agency: Launch is a Dallas-based, full-service advertising agency nationally recognized for award-winning creative work and for competitively positioning and marketing both fast-growth and mature companies.
Promised Land Dairy began as a local family farm in Texas that produced Jersey cow milk, with no artificial hormones or antibiotics. Today, their premium, all-Jersey milk is available in 26 states through quality grocery companies. Products include all-natural white milks, flavored milks, and cream products. For a map of store locations and more information, visit the Promised Land Dairy website or join them on Facebook.