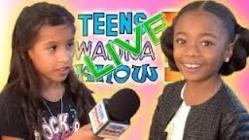 The positive feedback from publicists, talent, and teen fans has been overwhelming...
Los Angeles, CA (PRWEB) March 02, 2013
Blare Media announces its sponsorship of the celebrity-focused web series "Teens Wanna Know" and the soon-to-be launched teen portal website TeensWannaKnow.com. The web series, produced by Peña Talent and Productions and hosted by Michael Manuel Peña (age 14), Nathaniel Peña (age 12), and Keira Peña (age 8), features interviews with both Hollywood veterans and up-and-coming talent and emphasizes the positive works they do.
The show's young hosts have interviewed such Hollywood heavyweights as Francis Ford Coppola ("The Godfather," "Apocalypse Now"), 2013 Oscar Winner Malik Bendjelloul, Corey Feldman ("The Goonies," "Lost Boys," "Stand By Me," "License to Drive"), James Maslow (Nickelodeon's "Big Time Rush"), Vince Gilligan (writer on "Breaking Bad" and "The X-Files"), Matthew Weiner (Creator of "Mad Men"), as well as up-and-coming stars such as Zach Callison (Disney's "Sofia the First"), Jimmy Deshler ("General Hospital"), Brandon Tyler Russell ("Smitty"), and hot boy band IM5.
The "Teens Wanna Know" videos are currently hosted on YouTube and embedded across the web on fan sites such as FanPop, FanLala, and Teens Stars Online. Next up for the brand is the launch of the teen portal website TeensWannaKnow.com, slated for the end of March, which will augment its show business coverage with topics relevant to teens nationwide, including sports, fashion, social life, technology, gaming and education.
According to Executive Producer Diana Pena "The positive feedback from publicists, talent, and teen fans has been overwhelming, and we are ready to take the show to the next level with the website, new coverage areas, and larger distribution partners including, hopefully, broadcast and cable outlets."
Blare's Production Manager Blake Barnett says, "As a media production company ourselves, we understand the power and influence that media and celebrities can exert on people, especially young kids and teens. 'Teens Wanna Know,' with its emphasis on the good works celebrities do, as opposed to the scandalous stuff that outlets like TMZ put out, can become a major positive force in inspiring kids to make good choices, get involved in their communities, and follow their dreams. We decided to put our money where our mouth is and support them, and hope others follow suit."
Blare Media creates affordable, yet Hollywood-quality productions including films, corporate videos, broadcast commercials, music videos, and infomercials utilizing the latest digital capture and post production technologies. The company is headquartered in Fresno, California with branches in Los Angeles, San Francisco, Las Vegas, San Jose, Sacramento, Dallas and Seattle.
Companies interested in learning more about Blare Media's video production services should visit http://www.BlareMedia.net or call Project Manager Blake Barnett at 1-866-337-8331.