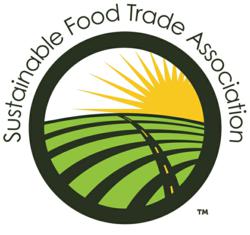 The 2012 member reports we received are full of inspirational achievements and marked improvements over the previous reporting year.
Portland, OR (PRWEB) March 01, 2013
According to a new report by the Sustainable Food Trade Association (SFTA), organic food companies are increasingly adopting a wide range of sustainability initiatives. Indeed, according to the first SFTA Annual Member Sustainability Report, member companies used less energy, created less waste, reduced their carbon footprints, and donated to the community considerably more in 2011 (the reporting year) than the previous year.
The statistics come from SFTA members' annual sustainability reports. Under the premise that one cannot measure what one doesn't know, organizational members sign a Declaration of Sustainability committing to strive for continuous improvement and to practice transparency in annually auditing their companies in the following areas: organic, distribution, energy, climate change, water, waste, packaging, labor, animal care, education, and governance. Each full member must submit a report addressing their progress in each topic area annually to SFTA.
"The 2012 member reports we received this year are full of inspirational achievements and marked improvements over the previous reporting year," said SFTA Executive Director Nate Schlachter.
Some of the highlights of the report are:
Organic is a trend worth investing in. 100% of the reports included a dedication to organic agriculture, by either only selling/producing organic products or stating a goal to increase organic purchases or sales in the coming year.
Efficiency is driving reduced energy use. All reports stated a formal commitment to energy efficiency through policies and practices. In addition, 37% of members reported they have invested in onsite renewable energy generation.
Waste diversion rates from landfill increased. The average amount of waste diversion from landfills was 76%. This was an increase of 18% more being diverted over the previous year (58% diversion) as well as a 34% increase in members reporting taking action such as auditing and managing their waste streams.
Climate change abatement initiatives are front and center. 85% of the members reported investing in tracking and integrating carbon management into their business operations. This is a 25% increase over reports submitted in 2011.
Water use reduction is a priority for organic food companies. 80% of the members reporting are tracking and focusing on reduction efforts of water use in their operations. This is a 20% increase over the previous year.
Community investment is universal. SFTA members reported donating approximately $4.4 million in cash and in-kind donations. This is a 26% increase over the previous year. 100% of reporting members participated in charitable contributions of volunteering, cash or product donations.
SFTA is on a roll with its membership increasing substantially over the last several years to more than 60 companies today. Already in the first quarter of 2013, four new companies have joined the organization: Down to Earth Natural Foods, Earl's Organics, Pacific Natural Foods, and Plum Organics.
"This is a telling sign that more organic food companies see the importance of formalizing their sustainability programs and pursuing sustainability collaboratively with their peers," said Schlachter.
SFTA has also been active in creating sector working groups that will serve to further collaboration within the industry with like businesses helping drive sustainability throughout the supply chain. These working groups will develop feedback to the Metrics Review Process initiated by the SFTA Board of Directors in February, 2013. This process will analyze and strengthen the metrics for managing sustainability programs as well as measuring impacts to ensure that the organic food industry is taking strong and effective steps towards sustainability in their operations.
In addition, SFTA is driving the development of the Organic Labor Code of Conduct. Currently in the public feedback process, the voluntary Code includes clear standards for workers that protect their rights for working hours, wages and benefits, and health and safety, among others. Comments are strongly encouraged and due by April 15. Responses from the feedback will be announced in June 2013.
SFTA is hosting several seminars and webinars this year across the country to reach out to the organic food industry and provide hands-on training in a collaborative setting. Upcoming events include a seminar on the SFTA Organic Labor Code of Conduct at the Natural Products Expo West March 7, 2013.
About the Sustainable Food Trade Association
The Sustainable Food Trade Association is a trade association for the organic food industry that represents over 60 North American mission-aligned companies. We provide support to our members in implementing innovative sustainable business practices across the supply chain, from farm to retail. For more information, see http://www.SustainableFoodTrade.org.
# # #