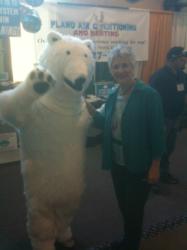 (PRWEB) March 02, 2013
During this past week's Fourth Annual Collin County Home and Garden Show, area leading HVAC contractor, Plano Air Conditioning, had a special treat for show-goers. At their booth, Plano Air Conditioning offered thousands of dollars worth of raffle prizes and games to show-goers at the area's leading home improvement show. The grand winners have been announced earlier this week to receive cutting-edge gadgets and the newest trends in air conditioning installation.
For four years, The Collin County Home and Garden Show has been a premier event for Plano, TX's most talented contractors and craftsman to network with customers, answer questions, and show off the innovations and projects they've worked on during the last year. Hosted at the Allen Event Center, this year's incarnation of the home and garden show featured exhibits from over 200 of the area's finest contractors, all bringing their "A" game to get noticed at the landmark trade show.
As is their nature, Plano Air Conditioning distinguished themselves with a combination of industry leading technology and personality. Their exhibit was visited by hundreds of guests, who had the chance to glimpse the latest innovations in cost cutting and environmentally sound Green technology for HVAC. With heaters, air handlers, and air conditioning units for every budget, including units reaching a whopping 21.00 SEER value for EPA energy efficiency standards, Plano Air conditioning raised the bar on the trade show floor for state-of-the-art HVAC installations and energy efficient technology.
Max the Polar Bear was also on hand to shakes paws and raffle off 4 Touchscreen Thermostat installations, as well as one grand prize of a complete air conditioning system with a Touchscreen Thermostat installed. The winners (along with the grand prize) were announced this week, and are as follows:
Runner-up Winners:
Tracey M of Plano, TX
Cassia E of Plano, TX
Cathy Y of McKinney, TX
Chris W of Allen, TX
Grand Prize Winner:
Greta A of Allen, TX
After the fun they had at the Collin County Home and Garden Show, Plano Air Conditioning is looking forward to supplying their customer with their faithful service and expert installation in the coming year. For more information on the ground breaking ENERGY Star products offered by Plano Air Conditioning or to get first notice of any other upcoming promotions and campaigns, please visit their website or contact:
Plano Air Conditioning
Phone: (972) 527-3840
Fax: (927) 633-9378
Email: contact(at)planoair(dot)com