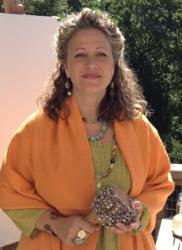 Palo Alto, CA (PRWEB) March 01, 2013
Sofia University (formerly Institute of Transpersonal Psychology) professor and artist, Shiloh Sophia McCloud, will address the UN Committee on the Status of Women at their annual conference in New York this month. Attendees will be gathering at the United Nations Church Center chapel on Monday, March 4 at 4:30pm. McCloud is an accomplished artist and poet who currently serves as a faculty member in Sofia University's Women's Spirituality program, both locally and globally. Ms. McCloud was invited by Lois Herman of the Women's United Nations Report Network to speak on how art and poetry can contribute to the ending of violence against women.
The UN Commission on the Status of Women conference can be traced back in 1945, with the signing of a UN Charter in San Francisco. The push for equality for women under the language for human rights was made more prominent over time. Today, the Commission has been asked by the UN General Assembly to develop its role in mainstreaming a gender perspective in United Nations activities, among other initiatives. In addition to invited delegates, the conference is expected to draw over 4,000 women from diverse global regions. These women and the general public are invited to hear the delegates – including Shiloh McCloud – and other speakers who will be part of the event sponsored by the Women News Network (WNN) and the Women's United Nations Report Network (WUNRN).
Sofia University President Neal King commented, "One of our overriding goals throughout all our programs here at Sofia University is to awaken creativity in our students and encourage balance between masculine perspectives and approaches with feminine qualities of collaboration, intuition, and nurturance. I can't think of anyone better to help bring this balanced approach to United Nations activities."
In addition to teaching at Sofia University in the Women's Spirituality Masters program for over eight years, she will also be leading her first course for men and women in our the online Global Phd program. McCloud's poetry and artwork aims to bring healing, empowerment and life skills to women who have suffered hardships and who are looking for a vehicle for transformational healing. Her dedication in helping to build a better world for women across global regions is active, strong and ongoing. She's also collaborated with Pulitzer Prize-winning author Alice Walker in a project to create Poets and Artists cards featuring McCloud's images and Walker's poetry, shown at the International Museum of Women in 2009. This project eventually led to illustrations in Walker's poetry book, "Hard Times Require Furious Dancing."
To learn more, visit: http://www.shilohsophiastudios.com.
About Sofia University
Founded in 1975, Sofia University (formerly the Institute of Transpersonal Psychology) is a private, non-sectarian university accredited by the Western Association of Schools and Colleges. For over 35 years, within the context of scholarship and research, the school has offered transformative education for the whole person, probing the mind, body, spirit connection. As Sofia University, the school is broadening its mission, reaching into multiple disciplines and adding undergraduate study. For more information, visit http://www.sofia.edu.