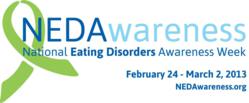 The work of the CSCC Counseling Center, Student Engagement and Leadership and OPA created an effective event that appears to have influenced many students' lives and understanding of Eating Disorders.
Columbus, OH (PRWEB) March 02, 2013
The Ohio Psychological Association (OPA) is taking part in the National Eating Disorders Association's (NEDA) 26th annual National Eating Disorders Awareness Week (NEDAwareness Week). This annual awareness campaign runs Feb. 24 - March 2, to bring public attention to the critical needs of people with eating disorders and their families.
On Monday, February 25, OPA and Columbus State Community College partnered to sponsor a screening of the documentary "Someday Melissa," which features a young woman and her struggles with bulimia. After the documentary screening, a panel discussion was held featuring three survivors of eating disorders and two OPA psychologists, Dr. Jeannine Tell and Dr. Heather Guthrie. Over 100 students attended the event, and feedback was overwhelmingly positive regarding the increased understanding of eating disorders and the impact on the individual, friends and family.
Mary Lewis, PhD, chair of OPA's Committee on Social Responsibility moderated the panel. "The work of the CSCC Counseling Center, Student Engagement and Leadership and OPA created an effective event that appears to have influenced many students' lives and understanding of eating disorders," Dr. Lewis said.
During NEDAwareness Week, thousands of people come together in communities across the country, hosting events to raise awareness about body image and bring national attention to the severity of eating disorders, which are bio-psycho-social illnesses with potentially devastating, sometimes life-threatening, consequences. While there is hope and recovery is possible – particularly with early intervention – many people suffer from the long-term effects of these illnesses.
Research and NEDA program outcomes have demonstrated that education and outreach leads to increases in the number of individuals who seek help and support for an eating disorder.
If you think a loved one may have an eating disorder, Dr. Lewis says to look for signs, including:

Drastic weight loss.
Preoccupation with counting calories.
The need to weigh yourself several times a day.
Excessive exercise.
Binge eating or purging.
Food rituals, like taking tiny bites, skipping food groups or re-arranging food on the plate.
Avoiding meals or only wanting to eat alone.
Taking laxatives or diuretics.
Smoking to curb appetite.
Persistent view of yourself as fat that worsens despite weight loss.
OPA and NEDA encourage individuals to get the conversation started in every community by pledging to do just one thing to raise awareness and provide critical information on eating disorders and related issues.
Located in Columbus, OH, The Ohio Psychological Association is a membership organization of approximately 1,600 Ohio psychologists. Its mission is to advance the creation, communication and application of psychological knowledge to benefit society and to improve people's lives in Ohio. For more information, or for a psychologist referral, visit http://www.ohpsych.org.
The National Eating Disorders Association (NEDA), headquartered in New York City, is the leading U.S. non-profit organization supporting individuals and families affected by eating disorders. NEDA serves as a catalyst for prevention, cures and access to quality care. Each year, NEDA helps millions of people across the country find information and appropriate treatment resources through its toll-free, live helpline, its many outreach programs and website. NEDA advocates for advancements in the field and envisions a world without eating disorders. For more information, visit http://www.NationalEatingDisorders.org.
For treatment referrals, visit http://www.NationalEatingDisorders.org. For Ohio referrals, visit http://www.ohpsych.org/referral/ or contact NEDA's Live Helpline: 800-931-2237 Monday – Friday: 9 a.m. – 5 p.m. (EST)