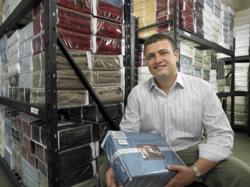 Thread count is more a measure of weight and substance than it is of quality or softness
Evansville, IN (PRWEB) March 01, 2013
Many consumers make the false assumption that higher thread count linens are more luxurious than lower thread count linens. Here, Exceptional Sheets owner Paul Saunders debunks popular thread count myths and tips for customers shopping for luxury Egyptian cotton sheets.
"Thread count does indeed make a difference," explains Saunders. "However, high thread count does not necessarily mean the sheets are softer or of higher quality. In our experience, customers often assume 1500 thread count sheets must be 'better' than our 400 through 1000 thread count collections because they are more expensive and include a larger number in the product title. In actuality the most appropriate thread count for each shopper has much more to do with personal preference."
The cotton fibers of high thread count sheets are woven much tighter and are noticeably heavier as a result. "It's not uncommon to hear that a consumer is surprised by the weight of their sheets if it's their first time buying authentic high thread count linens," says Saunders.
"A set of 1500 thread count sheets can weigh upwards of 10 lbs." Saunders notes a few things you might not already know, but should keep in mind, when shopping for Egyptian cotton sheets:
1. The higher the thread count doesn't always mean softer sheets. What matters most is personal preference. For example, denim jeans have a very high thread count but most people would not choose to sleep in them. Two more important factors that make a difference in how sheets are perceived are thread quality and fabric weave.
2. Authentic high thread count sheets will also last much longer, in both time and washes, than lower quality low thread count sheets. Egyptian cotton sheets soften over time (and through many washes).
3. Ply is often where additional thread count confusion lies. Ply is created by the number of threads entwined in a single thread. Most sheets are single-ply or two-ply. A single-ply sheets are softer to touch and much more durable.
"Understandably, Egyptian cotton sheets command higher prices than lower quality bed linen counterparts. With ExceptionalSheets.com, you'll notice the difference just by holding the folded set of sheets in your hands," says Saunders.
By debunking these popular myths about higher thread count and Egyptian cotton sheets, consumers will have a better understanding analyzing quality bedding and won't get duped when it comes to shopping for luxury bed linens
About the company:
Exceptional Sheets is a leading website and U.S. veteran owned and operated family business that offers a wide range of luxury bed linens featuring Egyptian cotton bed sheets, duvet covers and pillow cases as well as other products like mattress toppers, goose down comforters, 5-star Egyptian cotton bath robes and towels sets. Exceptional Sheets' mission is to provide customers with the highest quality Egyptian cotton sheet sets and bed linens in addition to top-notch customer service. To see what Exceptional Sheets can do for you and your home, visit http://www.exceptionalsheets.com.