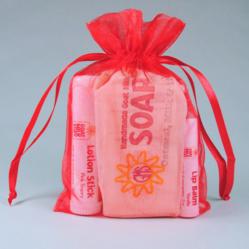 Goat Milk Stuff natural soaps make wonderful gifts for Easter.
Scottsburg, IN (PRWEB) March 01, 2013
Easter brings the spirit of spring and resurrection around the world signifying rebirth, renewal and opportunity and is the occasion of gift giving of candies, flowers and more, such as the fragrant Spring scents in natural goat milk soaps and lotions from Goat Milk Stuff.
PJ Jonas, mom of eight who founded Goat Milk Stuff on the family goat farm in Indiana, said she and husband Jim instill the Christian spirit to their children's lives by teaching them to work and study hard and to be thoughtful of others. Each of the home-schooled Jonas children, ages 5 to 16, helps in the company by milking goats, mailing orders or doing chores in the office or family store.
Mom PJ said, "While many consider Easter simply a celebration of light and the warmth of Spring after the long, cold months of winter, or rebirth symbolized by baby chicks and bunnies, we celebrate the resurrection of Jesus Christ and the rebirth he brings to all who will receive him as Lord and Savior. We feel our Goat Milk Stuff natural soaps make wonderful gifts for Easter."
Dad Jim oversees all soap making in the family's big soap room on the farm, while the boys tend to goats in the barn and the girls help Mom in the office and store. "Easter is often signified by egg hunts and bunnies but goats can also bring smiles to so many faces. We all pitch in on the farm, and if everyone pitched in at their homes and in their communities in the spirit of Easter, the world would be a better place."
The CBS hit daytime show The Doctors featured the Jonas family and its farm life and business, seen online at http://www.tinyurl.com/b67bcv5, and discussed the many healthy beauty products of Goat Milk Stuff.
Oprah Magazine also featured the Jonas products with most Goat Milk Stuff soaps and soy candles priced at $6. Goat Milk Stuff also offers gifts from bath fizzies for $3.50 to shaving soap for $8, along with gifts packs including:

Sensitive Skin Pack has unscented purity soap, lotion stick, lip balm & small laundry soap for $20.
Spring Scent Pack of matching goat milk soap and soy candle for $13.
Easter Beauty Pack of scented soap, body lotion stick and lip balm for $15.
Foot Care Pack of lotion stick with peppermint-scented fizzy & exfoliating luffa $18.
Problem Skin Pack for those who may have eczema, psoriasis, rosacea, acne, flaking or other skin problems and include four half-bar soaps in organic castile, purity, calendula and tea tree, for $15.
Goat Milk Stuff will ship orders placed by before Tuesday, March 26th by two-day Priority Mail to arrive before Easter Sunday, March 31st.
The Jonas business maintains an active social media presence with a growing following on Facebook at Facebook.com/GoatMilkStuff, YouTube at YouTube.com/GoatMilkStuff and on Twitter at Twitter.com/GoatMilkStuff.
Online at http://www.GoatMilkStuff.com, the Scottsburg, Indiana company makes and markets all-natural Goat Milk Stuff™ products including goat milk soaps, lip balms, lotions, bath bombs, laundry soap, soy candles and more. For media contact Brian Dobson at DobsonPR.com or BD (at) DobsonPR.com.