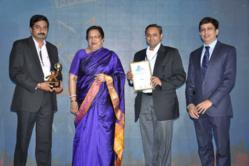 We're moving quickly and in the right direction.
Mumbai, India (PRWEB) March 05, 2013
Corbus, LLC was recently awarded the title of 2013 BPO Organization of the Year by the Asia Outsourcing Congress at the Asia BPO Excellence Awards held in Mumbai, India. The award was received by Dr. Amit Shekhar, India Operations Head, and Unni Vasudev, Vice President Supply Chain Services, on behalf of Corbus, LLC.
The company received the award due to its steady client driven global expansion and its reputation as a leader in Business Process Outsourcing in a number of industries including: Media and Publishing, Oil and Gas, Retail, Manufacturing, Pharmaceutical, Telecom and Mobility, Aviation, Consumer Packaged Goods, and Healthcare.
"Corbus competes within an extremely aggressive industry, so winning this award over many industry competitors is a testament to our focus on delivering our clients' needs and execution excellence," stated Unni Vasudev, Vice President Supply Chain Services. "Corbus does Business Process Outsourcing and we do it very well; this acknowledgement helps to solidify that fact. We're moving quickly and in the right direction. With our proven capabilities in Sourcing and Procurement Services to Order To Cash process outsourcing, I see many positive opportunities in the future for us."
The BPO Excellence Awards received over 1,500 entries from companies around the world. An independent jury was responsible for reviewing all entries and completed the final selection.
This is the third award Corbus, LLC has received in 2013 – the company was awarded the title of Top Workplaces by the Dayton Daily News in January (read more here), and two executives from the company were chosen as Supply and Demand Chain Executive's Pros to Know in February (read more here).
Corbus, LLC
Corbus, LLC, a minority owned, global solutions provider founded in 1994, offers superior services combining years of experience, solid partnerships and adaptability. Corbus' solution offering includes Information Technology and Sourcing and Procurement services. Corbus creates technology-empowered solutions with industry leading processes and technologies that deliver business value to global clients through year-on-year savings and are known for the ability to work in true partnership with clients to innovate and bring cost reduction along with enhanced product quality. With competitive positioning and complete transparency, Corbus and clients together achieve success. For more information, visit http://www.corbus.com.
Corbus is a global organization headquartered in North America with presence in Europe and Asia Pacific markets. Corbus is a wholly owned subsidiary of Soin International LLC, a private multi-national holding company that provides strategic management, administrative systems, and financial support to a diverse array of worldwide subsidiaries and affiliates.