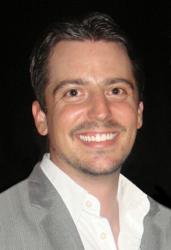 Ensuring that Swisstrax continues to raise the bar in professional relations and customer service is always at the top of my list.
Indio, CA (PRWEB) March 01, 2013
Swisstrax, a leading manufacturer and distributor of modular interlocking floor tiles for garages, showrooms and indoor and outdoor events, promotes Jesse Stolp to Director of Sales and Marketing. Hired in 2010 as a U.S. Territory Sales Representative, Stolp's positive impact and performance moved him into the Director of U.S. Sales position in just over two years after joining the company. Now, as Director of Sales and Marketing, his responsibilities expand to overseeing marketing and pricing strategies, company budgets and U.S. and international sales.
While Stolp's core objectives remain focused on generating sales and developing client relations to grow the Swisstrax brand and business, his new position allows him to oversee more aspects that have a direct effect on the company's overall performance. "Ensuring that Swisstrax continues to raise the bar in professional relations and customer service is always at the top of my list," said Stolp.
With the upcoming NASCAR race at the Las Vegas Motor Speedway where Swisstrax will be prominently featured around the state-of-the-art motorsports facility, Stolp sees this event as a significant stage for the company's products. "The versatility of Swisstrax products has been demonstrated across a vast array of venues. From motorsports to heavy equipment shows, aviation hangars to dance events, our floors have withstood the test of durability while providing an eye-catching dimension to any setting," said Stolp.
Entering into his third year with Swisstrax, Stolp is excited for the company's future. Working within a supportive company environment that is led by President Randy Nelson, Stolp feels fortunate that there is flexibility that allows him to implement his approach to sales, "When I first joined Swisstrax, Randy let me bring my own 'twist' to the sales department. These strategies were engrained in me from my father and fortunately, Randy and I found them to be very successful. As the company grew and my position changed, I was able to share these techniques with our new sales team members. I'm very happy to have my place with a successful and growing company like Swisstrax!"
# # #
About Swisstrax:
Swisstrax offers a practical and modern alternative to standard concrete and epoxy garage flooring. The product line, which was first developed in Switzerland over 19 years, was relocated in 2003 to Southern California; for both manufacturing and distribution. Swisstrax distinctive modular flooring has become the flooring of choice for a variety of automobile manufacturers, race teams and retailers.