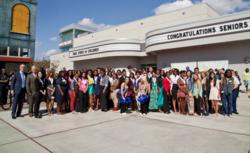 "Full Sail University is proud to stand alongside Valencia College and all of the community leaders who have recognized the vital need to support education in our local community through the tremendous efforts of Take Stock in Children of Orange County."
Winter Park, FL (PRWEB) March 01, 2013
Today, Full Sail University, in partnership with Valencia College, was proud to host the first Take Stock In Children of Orange County's graduation and scholarship ceremony. During the event, 49 high school students who have participated in the Take Stock In Children mentorship program for five years each received a 2+2 Florida Prepaid $30,000 scholarship.
Take Stock in Children was established in 1995 as a non-profit organization in Florida that provides a unique opportunity for deserving low-income youth/students, many from minority families, to escape the cycle of poverty through education. This unique mentorship program begins when the children are in seventh grade and provides volunteer mentors, early intervention and long-term support. If the students meet with their mentors weekly, keep their grades up and stay away from drugs and alcohol, they will earn a four-year college scholarship, paid for by corporate sponsors.
"We've proven that it works," said Sandy Shugart, President of Valencia College, speaking in regards to the Take Stock In Children of Orange County initiative. Valencia College brought the program to Orange County in 2008, thanks to a $1 million gift from the Florida Citrus Sports Foundation. Full Sail University partnered with Valencia in launching the program during its inception five years ago, and hosted the graduation and scholarship ceremony as the program came full circle during today's event.
"Full Sail University is proud to stand alongside Valencia College and all of the community leaders who have recognized the vital need to support education in our local community through the tremendous efforts of Take Stock in Children of Orange County," said Full Sail University President Garry Jones. "We are humbled by the dedication demonstrated by each of the students within the program and we commend the mentors who have devoted their time and talents to making a difference in the life of a child."
In addition to hosting the event, Full Sail University is the title sponsor of the Annual Take Stock In Children Golf Tournament held in Lake Nona. Proceeds raised during the tournament go directly toward the scholarship fund benefitting the local students within the program.
About Full Sail University:
Full Sail University is an award-winning educational leader for those pursuing careers in the entertainment and media industry. Founded in 1979, Full Sail has been recognized as one of the Top Five Game Degree Programs by Electronic Gaming Monthly, one of the Best Music Programs by Rolling Stone Magazine, and one of the Best Film Programs by UNleashed Magazine. In 2011, Full Sail received the "21st Century Best Practices in Distance Learning Award" from the United States Distance Learning Association, was named the "School/College of the Year" by the Florida Association of Postsecondary Schools and Colleges, and was recognized as one of the Top 100 Social Media Colleges by Studentadvisor.com.
Full Sail offers Master, Bachelor, and Associate campus and online degree programs in areas related to animation, art, business, education, graphic design, film, marketing, web development, music, recording arts, sports, and video games. Full Sail graduate credits include work on OSCAR®, Emmy®, GRAMMY®, ADDY®, MTV Video Music Award, and Spike Video Game Award nominated and winning projects.
[http://www.fullsail.edu
http://www.twitter.com/fullsail
http://www.facebook.com/fullsailuniversity
###