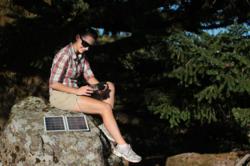 Customers Value the Versatility, Durability, Ease of Use and Compact Size of the Powerful Dual-Port Charger-12
San Jose, CA (PRWEB) March 06, 2013
In the last year, smartphone and tablet sales have tripled. No longer is Apple the sole player in the market. Samsung, LG, Blackberry and even Google are beginning to rise from the depths and overtake Apple in sales. This added competition has increased demand for the powerful Dual-Port sCharger-12 and Suntactics is now using Fulfillment by Amazon (FBA) to meet that demand.
"Current and future tablet customers require the powerful Dual-Port sCharger-12 solar charger because it provides both instant usage and charging of tablets and other devices" said Dean Sala, CEO and Founder of Suntactics. "Our Dual-Port sCharger-12 supplies enough solar power to use and charge two devices at once. It is about twice the solar power of all current competitors in its class." Whether using your GPS to cycle or an App on your tablet to shop, customers need the extra power to make sure they stay connected and powered.
Customers who have purchased the sCharger-12 have been very complementary.
"This is the best there is! Wow. Incredible. So simple. Durable. Too many adjectives for such a brilliant product. Suntactics has gone several steps beyond the competition. First the construction, the Suntactics changers (I own both the 5 and 12 models) are covered in a very durable coating similar to what the military uses on their circuit cards to weatherproof them. The cells they use are very high quality.
"Highly impressive solar charger! Charges 2 USB devices just as well as a wall outlet on sunny days, and still charges considerably well on some of the gloomiest of days. This is a no nonsense charger and well worth every dollar especially in any emergency situation where power of any other kind is unavailable".
"Worth Every Penny! I read every review I could find on solar cellphone chargers and this is the best direct cell phone charger that I have found. On a cold sunny day, my sCharger-12 gives a 15% charge to my iPhone, in 15 minutes, and it can charge 2 phones at a time! This purchase has proved to be worth every penny, AND as a bonus - I really enjoyed the opportunity to buy American".
"Took a while to get a really good test--live in Seattle! I'd had my eye on this solar charger for over a year when I finally saved up to purchase it. I haven't seen anything on the market as well constructed as this product for the price. After testing the charge for an iPad, I'm really glad I made the purchase".
The powerful dual-port sCharger-12 can charge devices as fast as a wall outlet and doesn't require a heavy and environmentally unfriendly battery. Besides the unmatched power and unique versatility to solar charge multiple devices at wall charging rates, the real long-term value in the sCharger-12 is its durability and reliability. The sCharger-12 is designed to be a long-term solar power solution that will charge and even outlast all your devices. It is also the perfect tool for disaster relief like what Hurricane Sandy and others left behind. This is something that every gadget aficionado, dedicated survivalist or green lover should have in their cache.
About Suntactics
Suntactics focuses on portable solar and off grid solar energy products. Their current products are a unique 5-watt handheld solar charger called the sCharger-5 for solar charging smartphones like the iPhone and the powerful dual port 14-watt solar charger called the sCharger-12 for solar charging multiple remote devices including tablets like the iPad. These compact, high power and durable solar power chargers meet the needs for a wide range of portable devices. The units are manufactured in the USA at Fastrak, a veteran owned contract manufacturer. Suntactics is headquartered in San Jose, CA.
About Amazon's Fulfillment Technology
Amazon has created one of the most advanced fulfillment networks in the world. With Fulfillment by Amazon (FBA) you store your products in Amazon's fulfillment centers, and we directly pack, ship, and provide customer service for these products. sCharger-5′s Amazon Listing