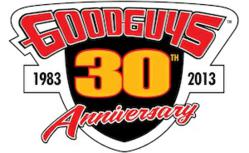 "We're excited to further our relationship with Power Automedia for this 2013 Goodguys event season." - Goodguys President, Marc Meadors
MURRIETA, CA (PRWEB) March 01, 2013
The Goodguys Rod & Custom Association has been promoting some of the world's largest automotive events ever since the company's founding in 1983 by lifelong hot-rodder Gary Meadors. Boasting a membership over 70,000 strong, Goodguys' enthusiast-centric events feature the best in hot rods, custom cars, classics, trucks, and street machines while attracting hundreds of thousands of fans all over the country to their unique brand of automotive gatherings. With 19 events scheduled for 2013 in nearly every corner of this great country, the Goodguys shows have something for everyone.
Goodguys Rod & Custom Association has once again partnered with Power Automedia for 2013 to expand and enhance their web presence and event exposure. Power Automedia serves as Goodguys' digital media partner, covering many Goodguys events all across the country. This collaborative effort enables Power Automedia to provide nearly real-time event coverage to the automotive enthusiast base Goodguys is looking to incorporate into their events.
In addition to their events, Goodguys Rod & Custom Association also produces a quality 250-page, full-color magazine entitled the Goodguys Times Gazette, which provides an inside look at the events, people, cars and companies that make it all possible. For the first time, the Goodguys Gazette will be available at no cost to all through their no-cost Junior Membership, which includes a digital subscription delivered to your inbox. While many of their events are limited to classics and hot rods from model years 1972 and prior, they've opened up select shows to include "All-American Sundays", welcoming all domestic vehicles and are even offering Autocross competitions at select locations in 2013.
"We're excited to further our relationship with Power Automedia for this 2013 Goodguys event season. Nobody works harder to provide timely, high quality event coverage in such a creative format. With Power Automedia's diverse lineup of e-zines and their far-reaching industry-wide weekly newsletters, it offers Goodguys the perfect platform to get out our message to all segments of the hot rodding industry," said Marc Meadors, President of Goodguys Rod & Custom Association.
The Power Automedia/Goodguys relationship will extend across their top line of online automotive magazines including StangTV.com, StreetLegalTV.com, LSXtv.com, CorvetteOnline.com, RodAuthority.com and ChevyHardcore.com. Goodguys will rely on these online magazines to reach their traditional "Goodguy" while introducing the world's premier automotive events to a growing number of muscle car and modern muscle enthusiasts.
"The Goodguys organization is relying on us to help extend and introduce the Goodguys events to automotive enthusiasts that may not be familiar with the Goodguys brand and what they do for the automotive enthusiast', explained Power Automedia Vice President, Jason Snyder. "Much like the shift in the media landscape, Goodguys has diversified their automotive events to welcome a younger audience; they want grandfathers, fathers, sons, and daughters to all have their own place at an event, while enjoying the passion for the automobile together. Events like their 'All-American Sundays' and Autocross are making a huge impact on the market. Our online coverage helps to supplement their Goodguys Times Gazette print magazine, by providing market specific coverage to their growing enthusiast base".
With over 12.9 million viewers expected this year, and more than 840,000 fans on Facebook, Power Automedia's nine automotive online magazines are attractive among automotive performance companies looking for cost-effective marketing solutions. Plus, with an industry-leading video production and innovative social marketing team, Power Automedia helps assist the automotive industry transition into the future of digital media.
# # #
Press Contact
Power Automedia
Jason Snyder
25843 Jefferson Avenue
Murrieta, CA 92562
jsnyder(at)powerautomedia(dot)com
ABOUT POWER AUTOMEDIA
Power Automedia believes in the magic of the automobile, helping automotive enthusiasts achieve their dreams, and building something special. They communicate with passion and emotion, educate with expertise and enthusiasm, and nurture and entertain new enthusiasts. Power Automedia currently publishes nine digital automotive enthusiast magazines and produces video content for auto industry clients.
Power Automedia - 25843 Jefferson Avenue, Murrieta CA 92562 | Ph: 951.677.2626 | Fax: 951.677.2627