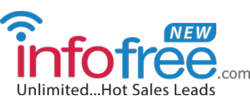 San Mateo, CA (PRWEB) March 01, 2013
infofree.com, the home of unlimited sales leads and mailing lists for only $49.95 per month, now offers the download of 32 million consumer and business emails as well as tips for email best practices, to help businesses optimize their marketing.
For the low price of only $49.95 per month, subscribers to infofree.com can enjoy unlimited search, select, and view of its entire database -- including 32 million business and consumer email addresses -- download up to 4,000 sales leads each month, and pay only a penny per lead for any downloaded after that. Additionally, the infofree.com Sales Tips Center provides a goldmine of information for all topics related to sales and marketing, with an emphasis on email marketing best practices.
"Now you can download targeted consumer and business email addresses and reach out to your prospects through multiple channels. Visit our Sales Tips Center to discover daily, up-to-date articles and helpful tips to take your email marketing to the next level," says Vin Gupta, Founder of infofree.com.
To try infofree.com free for 1-day, visit http://www.infofree.com/freetrial or call 877.448.0101.
About Us:
infofree.com™ is revolutionizing the sales lead and mailing list industry by providing unlimited search, select, and view of over 15 million business records, 225 million consumers, and hundreds of other specialty databases for the low, flat price of only $49.95 per month or $449 per year. Reach new homeowners, new movers, newlyweds, new businesses, and more!
The infofree.com content is compatible with the following platforms: Oracle CRM, Salesforce CRM, Microsoft CRM, Nutshell CRM, Goldmine CRM, Sage ACT! CRM, Highrise CRM, Zoho CRM, NetSuite CRM, SAP CRM, Constant Contact, RightNow Technologies, Responsys, Vertical Response, and Dun & Bradstreet.