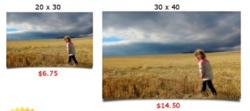 Great prices, great customer service, great product. It doesn't get any better than that. - Diane Pietro (founder of Twin Cities Photography Group.
Franklin, TN (PRWEB) March 05, 2013
New professional printing lab "Print a few things" offers pro photographers rock bottom prices while delivering top quality. This allows some breathing room in a cut throat market for today's photographers. Through their focus on prints and innovative "batch printing" process, they offer museum quality photographic prints on archival photo paper at prices that are far below industry standards.
"We rebuilt the printing process from the ground up, virtually eliminated our overhead, and passed the savings to the client." Mike Morehouse.
There is one catch, there are no rush orders. In fact, turnaround time is about 2 weeks. They currently run 2 batches per week, which keeps overhead low. This turnaround time won't work for every order your clients make, but if it works for half of your clients' orders and all of your showcase prints, the savings would add up quickly.
It is uncertain if other labs will be able to follow their lead, but the printing industry is at a state of ultra-competitiveness. For example, a 20x30 print typically runs $20-$30 with a 3-4 day turnaround time. At Print a few things, the same quality 20x30 comes in at $6.75 with about 14 days turnaround. Which is better? Well, that is for the photographer to decide on a per order basis. Full pricing for all products can be seen at http://www.Printafewthings.com