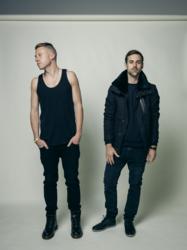 Melbourne, Australia (PRWEB) March 05, 2013
Top ranking music app Jam for iPhone is pleased to announce its participation in the Music Gear Expo at the 2013 SXSW festival in Austin, TX. The new song creation app, named the official sponsors of the lounge in the Music Gear Expo Hall, joins an elite list of specialty products and musical equipment on display and open to the public March 14-16th from noon to 6 PM.
Throughout the week, visitors to the Jam for iPhone Lounge can check out live demos of the app and enjoy free drinks in the hosted bar in exchange for trying out the app on their own device. Pacific Northwest duo and XXL's 'Breakout Artist of the Year' Macklemore and Ryan Lewis will also be making a special guest appearance in the Jam Lounge on Thursday, March 14th from 1:30 to 2:30 PM for pictures and autographs.
Launched earlier this year, Jam for iPhone has been called the "Instagram of music" allowing any vocalist to create completely original songs in seconds that can be shared on Facebook and Twitter or within the app's own social network of "charting artists."
"We are really looking forward to Jamming with attendees at SXSW and to hanging out with Macklemore and Ryan Lewis in the Jam Lounge - it'll be the place to be!" says DreamWalk interactive General Manager and Jam for iPhone developer, Joe Russell.
Music Gear Expo – Jam for iPhone Lounge
Hours:
Thursday, March 14 12:00pm - 6:00pm**
Friday, March 15 12:00pm - 6:00pm
Saturday, March 16 12:00pm - 6:00pm
**special appearance by Macklemore & Ryan Lewis Thursday from 1:30 – 2:30PM**
Location:
Austin Convention Center, Hall 5
For more information about Jam for iPhone visit http://www.jamapp.com.au and follow Jam on Facebook and Twitter.
About DreamWalk Interactive
DreamWalk is a division of Wellcom Group Limited. It was founded by brothers, Joe and Sam Russell in 2008 with the development the world's first commercial GPS treasure hunting platform, also named DreamWalk. Jam for iPhone is DreamWalk's first music app ranked #1 in over 26 countries with over 250,000 users. http://www.dreamwalk.com.au/
About Macklemore & Ryan Lewis
Macklemore & Ryan Lewis, a duo from Seattle, Washington, have emerged as a premier national hip-hop group known for their electrifying live shows, expertly crafted music, and innovative music videos and media. After years of building momentum with impassioned support from their devoted fan base, 2012 was a banner year for the group, kicked off by Macklemore¹s feature in XXL's Freshman Class. Most recently, they have broken new ground by independently releasing their debut full-length album, The Heist, which shot into the #1 spot on iTunes and debuted at #2 on the Billboard charts without the support of a traditional record label. Their single "Thrift Shop" has reached #1 on the Billboard Hot 100 chart (3x Platinum), with help from a wildly popular music video (80 million+ views on YouTube) on heavy rotation on BET and MTV. "Same Love," a song and video in support of marriage equality, galvanized young fans and voters and led to a live studio performance on The Ellen DeGeneres Show. While on their 70-city, completely sold-out world tour supporting The Heist, they garnered attention in Rolling Stone, Billboard, NPR, TIME and GQ, with live performances on VH1, MTV, The Late Show with David Letterman, Late Night with Jimmy Fallon, and Saturday Night Live. http://www.macklemore.com
About SXSW
South By Southwest (SXSW) Music and Media Conference, the world's leading music industry event, offers attendees the opportunity to explore the future of the music industry during the day at panels, talks, the Trade Show, Music Gear Expo and other conference activities at the Austin Convention Center. At night, the absolute best mix of musical performances from over 2,000 regional, national and international acts will take place at the nighttime music festival. Altogether, SXSW presents unmatched networking opportunities, career-building conference programming and over 100 stages of music for showcasing bands and conference attendees. SXSW Music takes place Tuesday, March 12 - Sunday, March 17, 2013 in Austin, Texas. For more information on every aspect of SXSW, please go to http://www.sxsw.com.