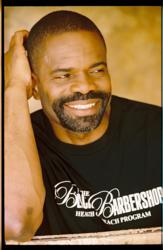 It was an incredible experience working with GE to make this program a success
Los Angeles, CA (PRWEB) March 01, 2013
Dr. Bill Releford recently discussed health issues affecting the African American community with employees gathered at the GE Healthcare Institute Auditorium in Waukesha, Wisconsin. "Keeping Our Communities Healthy" was also broadcasted to GE workers in 32 nations via teleconference and webcast. Pat Pearman, the Director of Disparity Programs and U.S. Partnerships for GE healthymagination, moderated the forum, which took place on February 21, 2013.
Invited by GE Healthcare to participate in its HealthAhead initiative that provides employees with tools for healthy living, Releford specifically addressed minority healthcare. "Hypertension and diabetes continue to afflict African Americans at a disproportionate rate, both in the United States and across the world," said Releford. "Eating at home, following a diet that includes five colors a day, and exercise all play an important role in preventing and managing the diseases endemic to our community."
"I am pleased to have had the opportunity to reach out to thousands of GE employees," Releford continued, "and I applaud forward-thinking companies like GE Healthcare that do more than 'talk the talk' when it comes to wellness programs, and actually create a culture of health."
The talk will be rebroadcast at future dates.
About Dr. Bill J. Releford, D.P.M.
Dr. Bill J. Releford, D.P.M., a graduate of the Temple School of Podiatric Medicine in Philadelphia, began his practice in 1990 and established the Diabetic Foot Institute, a facility dedicated exclusively to the reduction of diabetes-related amputations in high-risk populations. Dr. Releford is recognized both domestically and internationally as a leader in the field of diabetic limb preservation and wound care, and recently received prestigious awards from the Association of Black Cardiologists and the Regional Black Chamber of Commerce for his contributions to public health.
Dr. Releford is an assistant professor at Charles R. Drew University and lectures worldwide about the latest techniques in limb salvage and community-based outreach. He authored the book "Five Colors A Day to Better Health," and has been featured on "NBC Nightly News" with Brian Williams, ABC's "The View," and in The Washington Post, Newsweek, and The Los Angeles Times.
His community outreach and health-care advocacy efforts are facilitated through the Diabetic Amputation Prevention Foundation (DAP), a non-profit organization he founded in 2001. Its mission is to educate at-risk populations to better understand diabetes and its complications through community-based programs.
Dr. Releford and the DAP Foundation have been recognized for the success of the Black Barbershop Health Outreach Program. Since its inception in December 2007, the program has screened over 25,000 men for diabetes and hypertension in more than 450 black-owned barbershops in over 26 cities.