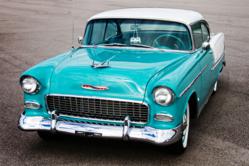 Nothing goes together like souped-up classic cars and North Carolina mountain roads.
Cary, NC (PRWEB) March 01, 2013
Since offering its Route 66 Classic Car Road Trips, Blacktop Candy's – a Cary, NC based company – has received numerous requests for a road trip closer to home. So today they announced an amazing Four-day Weekend Road Trip from Historic Apex, NC to Beautiful Asheville, NC departing every Thursday starting 11 April and running for five (5) weeks.
"Because many of the scenic farm, country and mountain roads have been bypassed by interstates" commented CEO and Founder Scott Shinn when asked about the new road trip, "Many North Carolina residents have never experienced some of the state's iconic attractions like Chimney Rock or Lake Lure. This road trip is an opportunity to see and experience the best of North Carolina while driving a beautifully restored piece of classic history."
The North Carolina Classic Car Tour includes:

Classic Car Rental: Drive a beautifully restored classic car such as a 1955 Chevrolet Bel Air, a 1964 Corvette Stingray convertible or a 1967 Camaro Super Sport.
Four Days, Three Nights: One night in Charlotte, NC and two nights in Asheville, NC
Premium Accommodations: Marriott City Center Charlotte and Holiday Inn and Suites Downtown Asheville
Unparalleled Attractions: Stops at several iconic, authentic North Carolina restaurants, the American Classic Motorcycle Museum in Asheboro, free admission for two to the NASCAR Hall of Fame in Charlotte, free admission for two to the Bennett Classics Antique Car Museum in Forest City, free admission for two to Chimney Rock Park plus a full day to explore the endless attractions, museums, outdoor activities, dining and night-life opportunities of beautiful and historic Asheville.
GPS Navigation: with Turn-by-Turn Directions
Mechanic and Tour Adviser
Collision and Liability Insurance
Blacktop Candy's website provides extensive details on the North Carolina Classic Car Weekend Road Trip including detailed tour description, attractions, itinerary, accommodations, everything that's included and price at: http://blacktopcandys.com/the_tours/view/western-nc-weekend-classic-road-trip
"Nothing goes together like souped-up classic cars and North Carolina mountain roads," commented Shinn, "But our North Carolina Weekend Road Trip is a limited time offer and demands will be high, so book soon."
Tours can be booked online at: http://blacktopcandys.com/book/western-nc-weekend-road-trip-11-14-april-2014