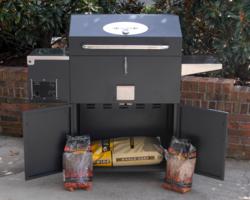 Maynardville, TN (PRWEB) March 01, 2013
CornGlo Grills has launched an innovative BBQ grill into the US market. The Model 570 is designed to provide both direct and convection heat, temperature control, and no more guess work as to cooking temperatures. The grill will burn either pellets or corn, or a combination of both providing an economical and environmentally friendly product.
Why Choose a CornGlo Grill? The Best of Both Worlds!
CornGlo is the only grill on the market that will burn both corn and BBQ pellets.The owner will have all-in-one in with a CornGlo grill and a controlled BBQ taste experience:by choosing either corn - the clean odorless taste that can come only from cooking with corn, or wood pellets - that slow-smoked flavor that can only come from woods such as hickory, mesquite, or apple
Use any combination of both to give the exact amount of flavor that is wanted. There is now no reason to have more than one grill on your patio.
Novice or Expert? Yes!
Grilling just got safer, easier, more economical, more fun, and best of all, a whole lot tastier! Cooking with corn lets the chef experience the true taste of the food and spices without the addition of any competing flavors. Corn is also less expensive and more efficient than gas or charcoal with little waste.
Grilling novice? The CornGlo outdoor grill is perfect for the grilling novice who has a tendency to ignite into flame everything that comes close to the grate.
Expert Grill Chef? It's perfect for great grilling chefs who value a versatile unit that cooks clean and lets the true flavor of the meats, vegetables, and spices come through.
Why choose corn over pellets or vice versa?
It depends totally upon individual taste. Corn is totally clean burning and adds absolutely no taste to the food. It lets you taste the true flavor of the food and spices that you are using.
Burning corn adds no harmful or toxic fumes or additives to the food being cooked. Plus, corn can contain up to approximately 15% moisture which gives an added "steaming" effect resulting in less shrinkage and moister cooking results. Wood pellets can add a variety of flavors (i.e. hickory, mesquite, apple, cherry, oak, etc.) to the food if that is the preference. Corn is also great for foods that would not fare well with a "smoky" flavor that can be prepared on the CornGlo Grill (i.e., breads, pies, cakes, vegetables, pizza, etc.)