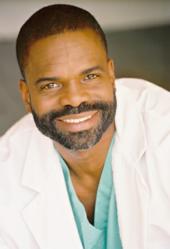 I am hopeful that this treatment will enhance the lives that suffer from chronic lymphedema.
Los Angeles, CA (PRWEB) March 02, 2013
Until now, patients with lymphedema turned to compression and/or physical therapy for relief from this chronic inflammatory condition and its associated wounds. Thanks to a pioneering treatment developed by Dr. Bill Releford, D.P.M, they have another option: platelet-rich plasma therapy (PRP). By using proprietary PRP injections, Dr. Releford's protocol reduces the pain and swelling that accompany lymphedema, and promotes healing of open wounds.
Non-surgical PRP injections use a concentrated amount of a patient's own blood to supercharge healing. "I use PRP therapy in many areas of my practice," says Dr. Releford. "When I saw its extraordinary ability to reduce inflammation in orthopedic applications, as well as its successful treatment of wounds and diabetic neuropathy, I developed a protocol to specifically address the chronic swelling and pain associated with lymphedema."
"One lymphedema patient came to me with a wound on her leg that had remained open for more than 10 years despite multiple debridements and other traditional treatments," continued Dr. Releford. "She'd been told by a vascular surgeon that amputation might be necessary. I'm pleased to report that after an eight-week course of PRP therapy, her wound has healed – and she even wore a dress to church for the first time in a decade."
Dr. Releford has been recognized worldwide for his revolutionary treatment of diabetes, limb preservation, and wound care. This new treatment is the latest evolution of Dr. Releford's approach. He began using growth factor therapy more than 25 years ago to successfully treat patients with non-healing wounds (growth factors are substances secreted by the body, and used to promote faster healing). Now, with his own protocol for extracting platelets from a patient's blood, Dr. Releford can relieve the chronic pain and swelling of lymphedema, and treat the wounds common to the condition.
About Lymphedma
Lymphedema is swelling that results from a blockage of the lymph passages. It typically affects the arms or legs. A painful and chronic condition, lymphedema often limits movement and prevents ordinary daily activities. Left untreated, wounds in lymphdema patients can lead to serious consequences, including amputation.
About Platelet-Rich Plasma Therapy
PRP therapy is an innovative, non-surgical approach that uses healing components derived from a small, concentrated amount of a patient's own blood. Injected into damaged tissue, PRP therapy has the potential to "supercharge" the healing process. Dr. Releford has successfully developed a method to use PRP to treat lymphedema, non-healing wounds, diabetic neuropathy, and also uses the injections in orthopedics and sports medicine to treat joint and tendon pain, ankle sprains, heel pain, plantar fasciitis, poor circulation, and many other conditions. In recent years, PRP therapy has made headlines due to its successful use by professional athletes like Tiger Woods, Kobe Bryant, Alex Rodriguez, and Rafael Nadal.
About Dr. Bill J. Releford, D.P.M.
Dr. Bill J. Releford, D.P.M., a graduate of the Temple School of Podiatric Medicine in Philadelphia, began his practice in 1990 and established the Diabetic Foot Institute, a facility dedicated exclusively to the reduction of diabetes-related amputations in high-risk populations. Dr. Releford is recognized both domestically and internationally as a leader in the field of diabetic limb preservation and wound care, and recently received prestigious awards from the Association of Black Cardiologists and the Regional Black Chamber of Commerce for his contributions to public health. Dr. Releford uses Platelet-Rich Plasma Therapy to treat diabetic neuropathy, foot injuries and chronic non-healing wounds.
Dr. Releford is an assistant professor at Charles R. Drew University and lectures worldwide about the latest techniques in limb salvage and community-based outreach. He authored the book "Five Colors A Day to Better Health," and has been featured on "NBC Nightly News" with Brian Williams, ABC's "The View," and in The Washington Post, Newsweek, and The Los Angeles Times.
About The Releford Foot and Ankle Institute
The Releford Foot & Ankle Institute's mission is to effectively decrease the diabetes-related amputation rate in Los Angeles and surrounding communities by providing comprehensive wound care and limb salvage services.
Dr. Releford's community outreach and health-care advocacy efforts are facilitated through the Diabetic Amputation Prevention Foundation (DAP), a non-profit organization he founded in 2001. Its mission is to educate at-risk populations to better understand diabetes and its complications through community-based programs.
Dr. Releford and the DAP Foundation have been recognized for the success of the Black Barbershop Health Outreach Program. Since its inception in December 2007, the program has screened over 25,000 men for diabetes and hypertension in more than 450 black-owned barbershops in over 26 cities.