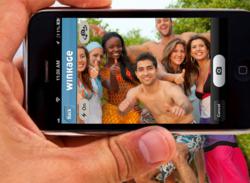 "This app is so cool."
Panama City, FL (PRWEB) March 01, 2013
With Spring Break now in high gear, many students are heading to the beaches for a week of fun in the sun, bringing with them a new social app in their arsenal. Winkage, a recently launched app, provides a unique way to interact and hook up with everyone around you, quickly becoming the social "tool of choice" on college campuses nationwide. The opportunity to easily immerse themselves into the overall vibe of a venue, coupled with the aspect of meeting new people, is what seems to be making this social networking app popular with the college crowd.
Deemed as "the new social scene", Winkage users interact spontaneously with each other at the same location. Like Facebook and Foursquare, users "check-in" to a specific venue, where they can post comments, pics, punks or props on that specific location's Twitter-like shout out board. And, if someone's looking to get a little more social, a Wink, or invite to chat privately, can be sent to any other user who may have caught their eye. The app can be used anywhere people gather, whether it's a dorm, a bar, a coffee house, the beach, a hotel or anywhere imaginable.
Reaction to the app has been great so far, receiving many positive accolades from the collegiate community. "This app is so cool. I'm starting to use it all the time on campus, and it's great for taking the guesswork out of where the fun's happening", as one University of Florida coed stated. A sophomore at Boston College said, "I love being able to check-in somewhere and instantly get the attention of everyone in the place." He added, "It's also sweet that you don't have to worry about future fallout with stuff you post."
Winkage is about spontaneity and owning the moment, with no virtual likes, followers, or badges to vie for. All posts, photos, Winks, and chats are cleared daily, making users less inhibited when using the app. Shouting out, flirting, meeting new people, and having fun is what Winkage, and Spring Break, is all about.
To download Winkage for free, visit The App Store or Google Play Store.
For more information about Winkage, please send email to winkme(at)winkage(dot)com or call 877-WINKAGE (946-5243).
Winkage and the Winkage logo are trademarks of Winkage Inc.