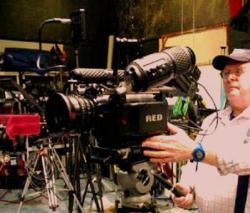 JHD-Dobson is unsurpassed in producing high definition films, TV, videos and more
Deer Park, New York (PRWEB) March 01, 2013
JHD-Dobson announced it offers full service video and film production at its Long Island studio for set or on-location productions from writing and videography through final editing, as shown in commercial and corporate demonstration reel online at http://www.tinyurl.com/2g4j5x5.
Hugh Daly, partner and award-winning Director of Photography, said, "We take products from concept to post production in a way that is cost effective and impactful for building brands or creating an independent firm."
His partner, Brian Dobson, founder of Dobson Communications, added, "Just one hour from midtown-Manhattan, JHD-Dobson is a leader in producing high definition films, TV, videos and more for production companies or firms in marketing, public relations, advertising and individual companies."
Daly founded JHD Productions and is a major contributor to the metropolitan NYC area production community. He has made scores of videos, independent films and TV ads and shows. In addition, CNBC/NBC Universal uses Daly for his video engineer expertise for on-location multi-camera live broadcasts in the New York City area.
JHD-Dobson meets TV and motion picture requirements production needs, with updated non-linear editing suite, more than 100 virtual sets and stage set capability on site, as its team can film in-studio or on-location.
In addition to its high powered special effects capability, fully equipped studio, cameras, lighting grids, jibs, sound equipment and range of computer generated graphics, JHD, online at JHDProductionsLtd.com, has:

Edit Suite and High Definition system and software
Latest Red One Digital Camera System & Panasonic HD Camera System
Voice-Over booth, green room, teleprompter
Portable Fresnel lighting and soft light kits
Sliders
Skateboard dolly, remote-controlled jib arm & LCD video monitor
10-foot studio jib and Portable jib arm
Prop and scenery shop next to studio area
JHD-Dobson can also use available venue footage to film spokespeople or actors in its Green Screen studio and then mix the elements with world-class graphics for unbeatable video, TV and film results as if the people and set footage were filmed together.
JHD-Dobson is a unit of JHD Productions and based at JHD's headquarters at 62 South 2nd Street, Building E, Deer Park, New York, convenient to the Long Island Railroad, major highways and nearby airport. JHD-Dobson also has a satellite office at Dobson Communications, online at DobsonPR.com, in Ridgefield, Connecticut.
Daly teamed with Dobson, a public relations expert who headed PR at major corporations and was a journalist at Dow Jones and Reuters before forming DobsonPR.com. He has produced videos for many clients at JHD studio before teaming with Daly. He is often quoted in media, such as CNN, about effective PR strategies.
For information call 203-894-9240 or email Brian Dobson(at)DobsonPR(dot)com.