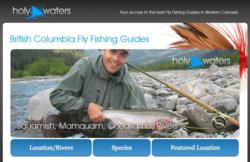 Holy Waters takes fly fishing seriously
(PRWEB) March 05, 2013
Fly fishing enthusiasts know first hand that fly fishing guides spend most of their time on the water, which is where they should be. Our team at Holy Waters is committed to helping create unforgettable fly fishing experiences throughout British Columbia. Holy Waters' concept was created out of the need to eliminate the guesswork when planning a B.C. fly fishing vacation by ensuring guests have the best guides on the best rivers for their holiday. Known for being fly fishing aficionados, we at Holy Waters recognize that great guides are fundamental to a successful fishing trip. We believe that in hiring the best guides, we are ensuring that vacations booked through our website will meet our clientele's expectations every time.
We at Holy Waters invite any professional, expert fly fishing guides, who know British Columbia waters well, to apply to be listed in our online guide booking system. The Holy Waters team knows that guests who are confident in the guides' knowledge, friendliness and expertise is the key to increased bookings. Currently, guides are available for the following rivers: Squamish, Mamquam, Cheakamus, Harrison, Pitt, Fraser, Fernie, Columbia, Salmo & Slocan Rivers.
We take fly fishing seriously. Our guides are on time and ready to go because there are fish to catch! All Holy Waters guides are vetted through a rigorous process to guarantee the highest level of service and support to guests. Holy Waters maintains a personal relationship with every guide in our directory as well as keeps ongoing experiential knowledge of skills they offer. All guides must know their waters; know the hatches; know the techniques and how to properly take care of a paying guest. When Holy Waters recommends a guide, it's done with 100 percent certainty in the quality of care and experience a guest will receive.
Holy Waters has a secret desire. We want to convert everyone who fishes with our team into a fly fishing enthusiast, if they aren't already! Are you a guide who shares that philosophy? If so, please register for the opportunity to join our team of expert fly fishing guides.
Holy Waters books fly fishing trips in B.C. Canada for clients across the globe. Keeping your limited vacation time and budget needs in mind, we invite you to see how easy it is to arrange a memorable, custom trip through our new website.