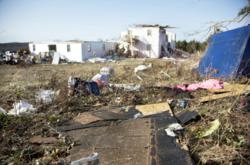 We were shocked that a community was unable to send emergency alerts to its citizens because of a contract lapse and we wanted to make sure it could never happen with a community we serve.
Rochester, NY (PRWEB) March 01, 2013
Mass notifications systems are used by thousands of public safety agencies across the US to warn citizens about local emergencies, hazards and other threats. So when a community loses access to their system, it's a big deal. And that's what happened to the city of Branson, MO in 2011. Because of contract negotiations, the city let their contract lapse and a tornado struck before their service was re-established.
As a result, hundreds of people were not notified of the imminent threat.
Inspired by this horrific story, Hyper-Reach has created the Hyper-Reach Forever™ program, designed to insure that a community will always have access to the Hyper-Reach system once they've enrolled. The program continues service availability even after a contract has expired, enabling a community to alert its citizens when the need is there.
Hyper-Reach is a state of the art mass emergency notification system designed specifically for public safety officials. The system sends thousands of telephone calls, SMS text messages and emails to geographically targeted households in seconds. A new feature, called Hyper-Reach Express, works with the Federal Emergency Management Agency (FEMA) to send broadcast messages to all mobile telephones in an affected area. And Hyper-Reach will be developing additional features this year that enhance this new FEMA capability.
"We were shocked to hear that a community was unable to send emergency alerts to its citizens because of a contract lapse", said Sam Asher, President of Hyper-Reach. "Although this happened with a competitor of ours, we wanted to make sure it could never happen to one of the communities we serve. So we developed Hyper-Reach Forever to make certain that the citizens we help serve are not put at unnecessary risk when we can prevent that so easily."
Hyper-Reach (http://www.hyper-reach.com) is a mass notification system with over 12 years of experience in emergency messaging. Hyper-Reach sends messages via automated telephone calls, text messaging (SMS), email, and social media, such as Twitter. Messages can be created by local personnel or automatically sent, depending on the emergency. Other uses of Hyper-Reach include Amber alerts, toxic chemical warnings, and armed shooter alerts. In addition to 911 centers, Hyper-Reach is used by law enforcement, educational institutions, and corporations. For more information about Hyper-Reach, go to http://www.hyper-reach.com or call 855-266-8439 (855 2-Notify).