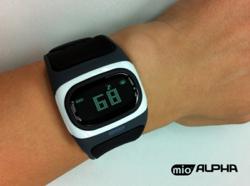 We've seen the same problem in the iPhone and app space, too many newbies, too little real knowledge or outsourcing software to companies in Asia that don't have a clue.
Bozeman, MT (PRWEB) March 06, 2013
Some new heart rate monitor products have been announced recently that would appear to solve the strap problem according to the Heart Rate Watch Company. The new Mio Alpha claims to be the world's first strapless heart rate monitor but issues include its store data or upload it to training software.
"These days there are so many good strapped alternatives like the Polar H1 soft strap or Suunto Comfort belt, that there really is no need to consider strapless monitors any longer," says Rusty Squire, President of the Heart Rate Watch Company
"We were excited when we first heard about the Mio Alpha but upon further review it was apparent that many important features were left out", says Squire. He adds, "The real analysis is that this is a heart rate monitor at a very high price point with no recording, data features or training software".
This compromises to a great extent the products usefulness for serious training according to Squire.
"The GPS watch, heart rate monitor, bike computer and fitness electronics industry is a very small one, and often, people think they can just jump right in and surpass what has been done", says Squire. He adds, "It seldom proves to be true, although Magellan did a pretty nice job last year with their Magellan Switch Up but they are the rarity and not the rule".
What's a Buyer to Trust?
"In three words - the big brands", says Squire. He adds, "They are tried, true and tested and generally won't let you down and, in our experience.
"We hope Mio Alpha develops into a product with speed and distance data, download capabilities and an excellent training software but for now it has none of these", says Squire.