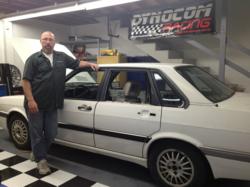 It's going to take patience, intelligent driving and mechanical sympathy to maintain the car for the whole race.
Morgan Hill, CA (PRWEB) March 01, 2013
This year marks the debut of Team Andy's Auto Sport (http://www.andysautosport.com) in their first auto race. Amongst American motorsport aficionados, Chump Car (http://www.chumpcar.com) is a series with a great following of amateur hobbyists and auto-hedonists who love driving for the pure fun of it. That is the essence of Chump Car: to have fun driving fast on as small a budget as possible. In fact, the defining rules of the Chump Car series relates to the worth of the car.
The car itself must be assessed by the general market (i.e. Kelly Blue Book) at a value of $500 or less. Now, seeing as safety is all-important in motor racing, the sanctioning bodies have allowed teams to spend freely on their safety equipment which includes, but isn't limited to, a rollcage, safety harness and a racing seat.
Generally speaking, the cars must be safe enough to race, capable of stopping, but they aren't intended to be modified for performance. Lap times aren't the most important thing in this 7.5 hour race – these cars aren't all going to make it to finish line. Keeping the car running for the full race distance will be challenge enough for most people. Chump Car racers are here to enjoy themselves and friendly competition, and needy egos need go elsewhere. The hot, arid Monterey climate will take a toll on the drivers. Knowing this, the organizers have mandated that no driver can race for more than two consecutive hours, and each break between stints must be at least an hour long. This way, the drivers stay rested, fresh, sharp and out of trouble.
The drivers sharing the task of racing the Audi include online video personality Bill Guzenski, sales manager Geoff Phillips, customer service manager Plamen Marinov, and the three top selling salespeople of the month. A 1985 Audi 4000 Quattro has been chosen as this year's racecar, and they're sure its maiden voyage will be a successful one. This 5-cylinder, four-wheel-drive sedan is armed with limited slip differentials front and rear, which will come in handy when the track becomes slippery with people running off and bringing dirt back onto the track. The car's only performance modifications are a set of drilled and slotted rotors from SP Performance, a pair of Cipher Racing seats (http://www.andysautosport.com/shopbybrand/Cipher%20Auto.html), safety harnesses from DJ Safety (http://www.andysautosport.com/shopbybrand/DJ%20Safety.html) and a fresh set of Falken Azenis RT615S (http://www.andysautosport.com/shopbybrand/Falken.html) tires.
Bill Guzenki describes the race as something that requires a gentle-touch. "The goal is to be there at the end," Guzenski states, "The car is anemic - I'm sure we have the least amount of power in the field. It's going to take patience, intelligent driving and mechanical sympathy to maintain the car for the whole race". Chump Car is run rain or shine, and Guzenski hopes for the weather to suit the Audi: "Because we're the only all-wheel-drive entry this year and we don't have much horsepower, we're praying for rain to help even out the competition!"
With roughly a month before the race, it's up to the senior members of the group – Guzenski, Phillips and Marinov - to teach the three top salespeople at the office how to race a car. With several track days at their disposal, the senior members will impart all their racing knowledge onto the eager young students, and since the new recruits will be taking the lion's share of the driving during the race, it is all important that they learn and practice as much as they can. With a little luck and some proper preparation, Team Andy's Auto Sport is looking to get the company name out there and most importantly, have some fun trying to win!
For more information, visit AndysAutoSport.com, AndysAutoSportTV.com, or YouTube.com/AndysAutoSportTV.
Andy's Auto Sport is an online retailer and wholesaler of OEM and aftermarket automotive parts and accessories, and is the largest retailer of aftermarket body kits in the world, with more than 2 million unique online visitors per month. The company serves customers worldwide and has been featured in magazines such as Import Tuner, Modified, Low Rider, Truckin', as well as on television shows such as Pimp My Ride, Street Fury, Trucks!, and Two Guys Garage.