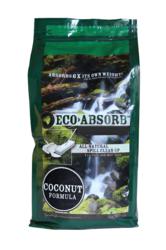 "We are excited to now be a source for Eco-Absorb®."
Ontario, CA (PRWEB) March 01, 2013
Eco>Absorb®, the leading environmentally friendly industrial absorbent, announced its partnership with Barrett Enterprises Inc.. Barrett has been in business for over 10 years and specializes in "green" solutions for industrial applications.
"Barrett represents a key addition to our distributor network." Commented Amber Demeter, Eco>Absorb®'s Director of Business Development. "We have a concentration of distributors on the West Coast, and a growing roster of International Distributors, but we have been looking for key partners on the East Coast, and specifically Florida. Barrett has many unique strengths that complement our growth strategy nicely."
Located in Southern California, the company plans on focusing aggressively on evolving the product line through its customer-centric approach to R&D, while allowing its distribution partners to get the product in the hands of customers. Eco>Absorb® is currently readying the first shipment to Barrett, that will allow them to have samples and product ready for immediate delivery to interested companies in Florida and beyond.
"Eco-Absorb® is an amazing absorbent spill cleaner that is 100% organic, very economical, and it exceeds EPA standards. When people see what it can do they are amazed!" Commented Callie Barrett, Owner of Barrett Enterprises. "We are excited to now be a source for Eco-Absorb®. We look forward to promoting the product at auto races, to the military, in FL, and online. We've spent many months studying the market and evaluating industrial absorbent solutions. Most either pose a risk to the user, are more costly, and / or are clearly not environmentally friendly. With Eco>Absorb®, none of those issues exist and we can be proud of the work we are doing."
Information on the Eco>Absorb® line of super absorbents, and a roster of current distributors, can be found online at http://www.eco-absorb.com.
About Eco>Absorb®
Eco-Absorbent Technologies, Inc., manufacturer of the Eco>Absorb line of super absorbents, is the absorbent industries leading provider of all-natural, eco-friendly spill clean-up solutions. Billed as Nature's Ideal Spill Management Solution, Eco>Absorb is the official absorbent used for spill clean-up in Target stores nationwide, and can be purchased online through HomeDepot.com. Eco>Absorb is OMRI Listed and NSF Certified. To learn more, visit their website at http://www.Eco-Absorb.com, or contact Customer Service at 866-820-8050.
About Barrett Enterprises
Barrett Enterprises provides the highest quality products designed to help customers decrease their environmental footprint, conserve energy, and deploy eco-friendly, sustainable solutions that serve traditional industrial applications. They serve small and large businesses and government agencies in transportation, agriculture, construction, healthcare, corrections, education, military, and hospitality venues. Barrett Enterprises is a Woman Owned Business, Service Disabled Veteran Owned Business, Central Contractor Registered Business, and members of the Florida Green Building Coalition and Waste Wise. For more information, visit their website at http://www.TheGreenBuildingProductsStore.com, or contact them at 877-904-8424.