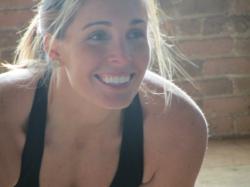 I can't wait to give it my all this year and see what happens.
Chicago, IL (PRWEB) March 04, 2013
Through Black Tiger Performance, several members of the Black Tiger CrossFit community have trained vigorously to compete in the Open. Among said members are Owners Neil Curran and Holly Palin. Together with their third principal and Owner, Geoffrey Ruttenberg, these three have combined to establish programming routines that promote elite fitness and a potential opportunity for advancement into the CrossFit games this summer. Both Curran and Palin will be competing in the open and cannot wait for the opportunity to represent Black Tiger CrossFit.
Palin has been CrossFitting for almost 3 years but due to a foot surgery is making her Open debut next week. Palin stated, "I have missed the open the last 2 years... as much as I loved watching my friends compete, it was extremely hard to stand by and watch. I can't wait to give it my all this year and see what happens."
For Curran, 2013 represents the fourth time competing in the Open. As an Open veteran, Curran proclaimed, "I have learned a lot from past competitions and I'm eager to put that knowledge to use come March." Curran further noted, "Aside from the thrill of competing, I have also enjoyed watching the sport of CrossFit grow and the number of athletes participating in the open continue to surge."
As 2013 represents the grand opening for Black Tiger Performance, for the better part of the past year, Black Tiger CrossFit members have been doing workouts in their gyms, basements and garages preparing for the Open. "CrossFit environments aren't always pretty, but can be just as effective nonetheless." Stated Geoffrey Ruttenberg, "Each member is constantly challenged to empty their proverbial tank and put 110% effort into their training. Regardless of placement in the Open, the constantly varied, high intensity workouts will condition any athlete and promote elite fitness."
According to Curran, "It has been gratifying and rewarding for Black Tiger CrossFit to see our expanding and growing community work so hard and come together for such a unifying and inspiring event."
Noted Palin, "The time of year is finally here again – the March Madness of CrossFit. Every Wednesday from March 6th until April 3rd, a new workout is posted and athletes have until the following Sunday to submit their scores. The top 45 athletes in each division (men, woman, masters and team) will move on to regionals. From regionals the top 3 of each division will move on to the games. Thousands of athletes around the world have been training for the Open and are anxiously waiting to compete. Nerves are high, last training sessions are being completed and excitement is in the air. I can't wait!"
Black-Tiger's CrossFit department recognizes that in sport, fitness and in life, preparation for the unknown provides greater adaptability and opportunity for successful outcome and experience. Black Tiger CrossFit trains in a specialized modality featuring three distinctive methodologies. We focus on the metabolic pathways for cardiorespiratory fitness and health, to which we divide into aerobic and anaerobic endeavors. We add gymnastics to increase coordination, agility, flexibility, core and trunk strength, neurological completeness and balance. Last, we feature weightlifting for power, speed and strength. By combining the aforementioned in performance training or athletic skill development we are able to increase maximum preparation mentally and physically and mold well rounded athletes capable of greatness.